Photo Gallery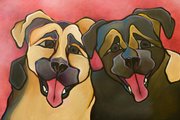 Kami Brant artwork
Kami Brant's affection for dogs began with Grandma.
Grandma was an 8-year-old Yorkshire terrier when Brant recovered her from an animal shelter in Missouri. The dog had been a mother in a puppy mill before that.
The pair hit it off.
"I just fell in love with dogs," Brant says.
Now, Brant is going a step further, trying to help even more canines.
The Kansas University drawing and painting major has completed a series of six portraits of dogs in the Humane Society of Greater Kansas City shelter. The portraits will be auctioned off as part of the society's annual "Art Unleashed" benefit auction Friday at the Uptown Theater in Kansas City, Mo.
"She's definitely an animal lover," says Robin Rowland, director of development for the Humane Society. "She has a big heart. She's the type of person who wants to connect with animals."
The dog portraits stemmed from a summer studio class Brant was taking from Tanya Hartman, associate professor of painting and drawing.
Brant decided to drive to the Kansas City shelter - which is at 5445 Parallel Parkway on the Kansas side of the state line - to meet some of the animals.
"I thought I'd spend half an hour there," she says. "I ended up spending five hours."
Then, she attempted to capture each dog's personality with acrylics on canvas. Among the mix:
¢ Thelma and Louise, two German shepherd sisters who are basically inseparable at the pound.
¢ Fancy, a beautiful Akita.
¢ A pit bull named Desi, which includes the words: "Hate is easy; love takes courage."
Brant says the series is in a more abstract style than she typically works in, and she says she thinks these works will appeal to the masses at the auction.
"I wanted to show a little of their personality and resemble," she says of the dogs. "It's definitely for people who aren't familiar with art."
Hartman says the portraits are "somewhat caricatured but sensitive images of dogs who are in need."
"It's difficult to make it not look stupid," Hartman says of painting animal portraits. "She did a good job - she showed personality and playfulness without making it too serious."
Rowland says she thinks the portraits will be a hit at the auction. About 150 artists contributed 250 works this year, and the Humane Society hopes to raise $55,000 through the event.
Of all those artists, only Brant and one other artist chose to do art based specifically on animals at the shelter, Rowland says.
Brant, who graduates in May 2009, says she isn't sure if she wants art to be a full-time career. But she expects painting to be part of her life one way or the other.
She's even considering making money on the side by painting pet portraits.
For now, though, she's just glad her love of animals and love for painting have come together for this project.
"With this summer painting class," she says, "instead of throwing them away or storing them, this let me do something good, since I don't have a lot of time to volunteer."
Copyright 2018 The Lawrence Journal-World. All rights reserved. This material may not be published, broadcast, rewritten or redistributed. We strive to uphold our values for every story published.