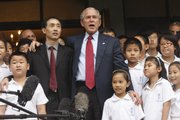 Beijing — President Bush juggled sports, strife and diplomacy today on his whirlwind Olympic adventure.
In a clear reference to China's tight control of churches, Bush emerged from a church service saying no country should "fear the influence" of religious freedom. Switching from leader to Olympics fan, Bush watched as Michael Phelps won the gold in the 400-meter individual medley.
He has been monitoring the military standoff between Russia and Georgia, a former Soviet state. And in an upcoming meeting with Chinese President Hu Jintao, Bush promised to continue pushing China to let its people speak and pray freely without harassment. China says that is a matter it can handle without outside interference.
Bush's comments after worshipping with first lady Laura Bush came with added punch as he delivered them in the heart of the Chinese capital during Beijing's Olympic spotlight.
"Laura and I just had the great joy and privilege of worshipping here in Beijing, China," he said as parishioners exited to "Onward Christian Soldiers." "You know, it just goes to show that God is universal, and God is love, and no state, man or woman should fear the influence of loving religion."
China allows worship only in officially approved churches such as the one Bush visited with his wife, so millions of people pray privately in house churches to avoid detection. The Chinese government has bristled at Bush's prodding as pointless meddling.
Bush spoke of the great joy he felt while worshipping in the church, where a choir of boys and girls wearing white shirts and Jesus fish pins performed "Amazing Grace" in English and Chinese.
Bush entered the Protestant church to sustained applause. The service was delivered nearly entirely in Chinese, but Bush followed along and bowed his head in prayer with about 200 other worshippers. His father, former President George H.W. Bush, and the president's daughter, Barbara, also attended the service, which was closely monitored by Chinese security officers wearing earphones.
After church, Bush went to the Water Cube and watched as Michael Phelps set a world record to win his first gold medal of the Olympics, beating rival Ryan Lochte in the 400-meter individual medley with a time of 4 minutes, 3.84 seconds.
Phelps, trying to break Mark Spitz's record of seven gold medals, crushed his old mark of 4:05.25 in the 400 IM, set in June at the U.S. Olympic trials.
After his victory, Phelps pumped both arms in the air, and quickly spotted his mother and two sisters in the massive stands at the Water Cube. He then looked the other way, where Bush, accompanied by the first lady, their daughter Barbara and his father, former President George H. W. Bush, was waving an American flag.
"I looked up and he waved the flag and nodded his head," Phelps said. "That was a pretty cool feeling to have the president say congratulations and have him in the crowd."
Bush came to Beijing mainly to have fun at the Olympics, but has found himself immersed in a conflict with China's neighbor to the north, Russia. A grim and blunt president on Saturday upbraided Moscow over its escalating standoff with Georgia. Bush questioned attacks in parts of Georgia away from South Ossetia, the breakaway province at the center of the fight.
Copyright 2018 The Associated Press. All rights reserved. This material may not be published, broadcast, rewritten or redistributed. We strive to uphold our values for every story published.