Also from August 7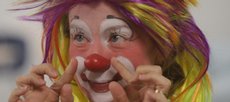 Clown school in Sedan provides an education in laughter

Should a day center for the homeless be opened in a residential neighborhood in Lawrence?
Poll results
Response
Percent
No.
66%
Yes.
24%
I'm not sure.
9%
Total
655
Lead stories
12:00 a.m.
By Shaun Hittle
August 7, 2008 in print edition on 1A
Twenty-nine years ago, a Douglas County court convicted 16-year-old Lawrence resident Charles Hunter of a series of rapes, attempted rapes and burglaries. Hunter, while maintaining his innocence, has remained in the Kansas state prison system for nearly three decades. And for all of those years, rape kits containing DNA evidence that might prove Hunter's claims of innocence remained stored, and untested, at Lawrence Memorial Hospital. But not for long.
10:00 a.m.
Exotic Prairie: Cookbook celebrates 10 years of using unusual local foods

August 7, 2008
2:00 p.m.
All stories