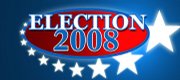 In-depth coverage of the candidates and the issues, all leading up to the Aug. 5 primary and the Nov. 4 general election.
When discussing State Board of Education races, talk quickly turns to evolution.
The 10-member board has been on a seesaw over the years.
When conservatives gain a majority, they adopt science standards critical of evolution, and when moderates gain control, as they did in 2006, the standards go back to supporting the teaching of evolution.
In the Republican Party primary for the District 4 position, which includes most of Lawrence, Robert Meissner, a dentist from Topeka, faces Alan Detrich, a fossil hunter from Lawrence.
On the issue of evolution, Detrich is opposed.
Detrich produces sculptures that combine religious and dinosaur themes, and his Web site, www.spearofjesus.com, includes comments that say "evil-utionist=ape-iest=malarki-ologist."
He added, "I don't think we evolved from apes, and that is a real lousy thing to tell children."
In 2004, Meissner almost won the same Education Board seat, while campaigning that he was willing to add intelligent design to science standards.
In response to a recent questionnaire from the Journal-World, Meissner wrote that he supported the teaching of evolution, but added, "As stated in the past, if the science community can come to a consensus as to the scientific credibility of alternative theories as to origin, then I would be open to, at least, discussing the possible inclusion of those scientifically credible theories."
Meissner is ahead in raising funds for the race with $10,200, which includes a $5,000 loan to himself. Detrich has said he will spend no more than $500 on the campaign.
Meissner also has received a $500 contribution from a political action committee that has supported critics of evolution in past Education Board elections.
Meissner also has won the endorsement of the conservative Kansas Republican Assembly.
The winner of the Republican Party primary will go against moderate Democrat Carolyn Campbell of Topeka, who has been endorsed by the KNEA.
Copyright 2018 The Lawrence Journal-World. All rights reserved. This material may not be published, broadcast, rewritten or redistributed. We strive to uphold our values for every story published.