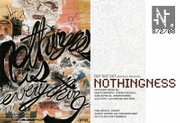 An unlikely shared interest in roller-blading and art has forged a bond among a group of friends whose work will be featured in "Nothingness," an exhibit opening today at DotDotDot ArtSpace.
Artist Yuri Zupancic describes the event as a 10-year reunion for the friends, particularly with contributor Sayer Danforth traveling from California to share his work.
"A lot of us still live here, but we're excited he's coming out from Long Beach," Zupancic says. "We all got to know each other through roller-blading. As time went on we've all focused more on our artwork. It's built us a bond."
That bond has parlayed into a common aesthetic ground, he says.
"We all have our own unique ideas and tastes, but we're working with a new multimedia mindstate. It's very physical, very tangible, like roller-blading," Zupancic says. "We all have a fascination for recent scientific and technological discoveries. ... It's kind of taking our modern world, including all of the technology, and putting it into an imaginative realm."
The opening reception for "Nothingness" will be 6 p.m. to 10 p.m. today at the gallery, 1920 Haskell Ave. Other featured artists include Jeremy Rockwell, Jeromy Morris, Alex Soto and Luke Bender.
Regular gallery hours are from 2 p.m. to 8 p.m. Thursday and Friday and from 11 a.m. to 6 p.m. Saturdays. Showings also are available by appointment by calling the gallery, 766-2932.
Copyright 2018 The Lawrence Journal-World. All rights reserved. This material may not be published, broadcast, rewritten or redistributed. We strive to uphold our values for every story published.