Photo Gallery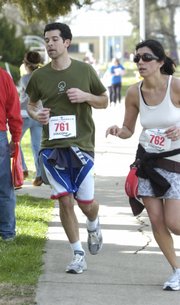 TherapyWorks Half Marathon and 5K
The thousands of runners that descended on Lawrence on Sunday for the TherapyWorks Half Marathon and 5K got more than they bargained for. In addition to perfect weather and fewer hills, runners got a tour of Lawrence that opened the eyes of even those familiar with the city.
"I saw parts of Lawrence today I hadn't seen before in my life," said Matt Brisch, a Kansas University graduate who lives in Kansas City, Mo. Brisch got his first glimpse of Oak Hill Cemetery, and his tour of Lawrence included running past the home of author William Burroughs as well as Kansas University's campus and a stop on the Underground Railroad, culminating with a lap around the track at Haskell Stadium. The race began at Haskell Indian Nations University's Coffin Sports Complex.
The course, Brisch said, "was an extraordinary tour of Lawrence. A great way to see the university and east Lawrence. Just a wonderful way to see the community."
Complaints were few on a day that brought about 2,100 runners from 28 states - some from as far away as Hawaii and Wyoming - to Lawrence.
The race is in its second year, having replaced the Raintree Run in 2007.
"Everybody loves the new course, loved the fact that we got rid of the steep hill," said Marcia Riley, who served as co-director of the race with her husband, Steve. "They really loved it and indicated that they would come back."
The half marathon raised funds for Health Care Access, and Steve Riley said this year's earnings exceeded the $42,000 raised in 2007.
The clinic, which provides medical care to the uninsured, increase its staff and number of clinic rooms, said Nikki King, executive director.
"The way that this community pulled together to help out those that are really struggling to make ends meet is really amazing to me," King said, noting that the funds make up 9 percent of her organization's budget.
Organizers were pleased that the weather stayed clear, and one runner described the temperatures as ideal for running.
Lawrence resident Joanne Renfro ran the 5K portion of the event and saw parents running with their young children.
"That's the great thing about a 5K," she said. "It's really for everybody."
Runners praised community members for supporting them as they jogged through Lawrence.
"Lawrence is such a neighborhood-type community," Brisch said. "There were really some healthy crowds that came out and cheered on the runners."
He said some were even passing out water and oranges to participants.
Renfro said the enthusiastic crowds inspired her as she entered the last leg of the 5K.
"It's interesting coming down the stretch because everybody, no matter how tired you are, tries to give it a little kick" to finish strong, she said.
Despite the large number of runners, Steve Riley said there were no reports of serious injuries or accidents. Renfro said traffic did not appear to be adversely affected by the race, and other runners credited the organization of the Rileys with contributing to a successful morning.
"A world-class event," Brisch said.
Copyright 2013 The Lawrence Journal-World. All rights reserved. This material may not be published, broadcast, rewritten or redistributed. We strive to uphold our values for every story published.