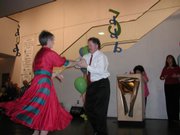 Familiar faces around Lawrence converged at the Lawrence Arts Center on Saturday for an evening of drinks, dessert and dancing - to help support a good cause.
The center at 940 N.H. was host to the second annual "Dine, Dance and Donate" fundraiser Saturday night for the Douglas County Visiting Nurses Association, Rehabilitation and Hospice Care agency.
Judy Bellome, chief executive officer of the nonprofit agency, said total funding exceeded $65,000, almost double its projected goal of $35,000.
The money will finance a new four-patient hospice guest house, providing an opportunity for care outside the traditional hospital or nursing home settings.
Bellome said the agency's long-term plan was to build a 12-bed inpatient care hospice with nurses to tend the patients.
"This is the first step," she said.
It was also the first step in ballroom dancing for Lawrence school district Superintendent Randy Weseman, who joined Kansas University medical student Courtney Bone on the floor in a salsa to Shakira's song "Whenever, Wherever."
Other Lawrence celebrity dancers were Marci Francisco, D-Lawrence, and former Mayor Mike Rundle. They opened the first dance. Francisco's husband, Joe Bickford, was on hand to take photos.
"She's the star," he said of his wife, with a smile.
Don Fambrough, former Kansas University football coach and player, said he was there to support the agency for its services to his wife, Del.
He said his 30-year career at KU could not prepare him for the pain he experienced eight years ago, when Del died of breast cancer. They had been married for 60 years.
Fambrough said when the couple learned that Del had breast cancer, the doctors at Lawrence Memorial Hospital suggested that they contact the hospice nurses.
"Without those three nurses to help me at that particular time, I don't know what I would have done," Fambrough said. "Their No. 1 concern was my wife. : They were there the entire time, round the clock."
Fambrough credits the nurses and their care for helping him through that time.
"If there's ever any way I could be of help to the visiting hospice nurses," he said, "I would jump at the opportunity."
Copyright 2018 The Lawrence Journal-World. All rights reserved. This material may not be published, broadcast, rewritten or redistributed. We strive to uphold our values for every story published.