Photo Gallery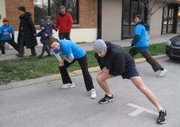 DCAP AIDS Walk 2008
Douglas County AIDS Project held its annual AIDS Walk on Saturday, April 12, 2008 in downtown Lawrence.
The cold weather didn't keep many people from participating in Saturday's Douglas County AIDS Project (DCAP) AIDS Walk, but the tight economy may have kept people from opening their wallets.
About 200 people took part in the 5K event, which raised roughly $16,000 for DCAP. The event is the largest fundrasier of the year for DCAP, which helps HIV/AIDS patients in Douglas County with counseling, medical needs and more. The money is used as part of the organization's general operating budget.
Runners and walkers, who participated as individuals or in teams, gathered at Maceli's, 1031 N.H., before the event. Maceli's catered breakfast after the event, when an awards ceremony took place.
Betsy Leighninger, 28, drove about three hours from Neosho, Mo., to participate. She came to support her best friend, DCAP education and outreach coordinator Jim Weatherly, and the work he does in the community.
A casual runner, Leighninger said she doesn't know anyone affected with HIV or AIDS, but her friendship with Weatherly has caused her to take notice.
"I just think running with other people will be exciting to support the cause," she said, before the 5K began. "It's a powerful thing. All of these people are running here for the same cause, the same purpose."
A charity event was the perfect way to spend a Saturday, said Josh Walton, 25, who walked with the Starbucks team. "I could be at home sleeping or watching TV, or I could be doing this," he said. "It makes you feel good."
Michele Wiegand, chair of DCAP's board, said the funds from last year's 5K helped the organization add HIV testing to its services.
"Our concern is that a lot of people aren't getting tested enough," she said, adding that Douglas County exceeds the national average in cases where HIV turns to AIDS. "We end up morphing faster, which shows that (patients) didn't get tested."
DCAP Executive Director Elena Ivanov blamed the economy for preventing people from donating as much as they had in years past. Organizers said they hoped to raise about $30,000.
Still, Ivanov was optimistic, saying she was "impressed, with the economy going down, people are giving so much."
DCAP recognized its volunteers after the race. It named Christopher Penn, chief of staff at Lawrence Memorial Hospital, its 2008 Friend of DCAP. Lisa Miller and Pat Phillips received the Spirit of DCAP Award, and Amanda McIntosh was named Volunteer of the Year.
Next week, DCAP will be providing HIV testing on Kansas University's campus. On Monday and Wednesday, testing will take place in front of Wescoe Hall, from 10 a.m. to 2 p.m. On Tuesday, from 10 a.m. to 2 p.m., DCAP will be testing in the Kansas Union. It is part of 15 Seconds Week, coordinated by KU HIV/AIDS awareness group 15 Seconds. The group's name reflects a statistic that notes that every 15 seconds an American is infected with HIV/AIDS.
Copyright 2018 The Lawrence Journal-World. All rights reserved. This material may not be published, broadcast, rewritten or redistributed. We strive to uphold our values for every story published.