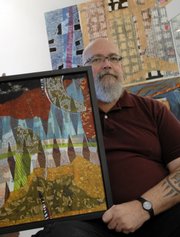 AIDS education, commemoration on tap
The Douglas County AIDS Project's 15th Annual Red Ribbon Art Auction follows a week of events leading up to World AIDS Day on Saturday:
Today
Noon to 1 p.m.: Brown Bag luncheon, KU Union.
7:30 p.m. to 9 p.m.: Panel discussion on safe sex, KU Union.
9:30 p.m. to 11 p.m.: Educational outreach on Massachusetts Street. DCAP volunteers will hand out safe sex kits.
Friday
10 a.m. to 4 p.m.: Free HIV testing, DCAP office, 2518 Ridge Court, Suite 101.
8 a.m. to 4:30 p.m.: Free HIV testing, Franklin County Health Department, 1418 S. Main St., Suite 1, Ottawa
11:30 p.m. to 12:30 a.m.: World AIDS Day Candlelight Vigil, KU Campanile.
Sunday
DCAP Red Ribbon Art Auction, $20, preview at 6 p.m., auction at 7 p.m., Maceli's, 1031 N.H.
When Marty Olson's close friend died this summer, he was moved to do something to memorialize him.
So, Olson, who is an artist and owner of Do's Deluxe hair salon, put his reflections of his friend on canvas.
The friend was John Baur, 57, who was a jeweler. What Olson created is an artwork of gold and silver inks and vibrant paints dotted with diamond shapes that symbolize not only Baur's profession, but also his character.
"It's all about the bling," Olson, 55, said of the artwork. "It's a small piece, but it's very complex, like his personality. There were so many layers to his life. A lot of facets."
One of those layers was Baur's sense of fun. He once dressed up as Marilyn Monroe, as did a few friends, to toast Roger Shimomura on his retirement from the Kansas University School of Fine Arts. Olson also said Baur threw the "most fabulous parties."
"He was a breath of fresh air," Olson said.
Another one of those layers was Baur's commitment to the Douglas County AIDS Project, where he was a board member.
"John was an amazingly generous person," Olson said. "He was very upfront about his involvement with DCAP."
Because Baur was an integral part of DCAP, the nonprofit organization chose Olson's piece, "Closure," as the featured artwork for this year's Red Ribbon Art Auction fundraiser, said Elena Ivanov, DCAP executive director. She said DCAP also will pay tribute to Baur in a special recognition ceremony at the 15th annual auction, which starts at 7 p.m. Sunday at Maceli's, 1031 N.H.
"John's dedication to his friends and family and to DCAP was boundless and inspirational. And his influence on the art auction was unmatchable," Ivanov said.
Ivanov also said that to honor Baur, DCAP hopes to raise $7,000 more in this year's art auction than last year, when $15,000 was raised.
Proceeds from the event will be used to support DCAP's services, which include prevention education, counseling and free HIV testing in Douglas, Jefferson and Franklin counties. Last year, DCAP served more than 2,100 people through educational presentations and more than 4,500 at information tables.
All artwork in the auction is donated, either by artists or collectors. There will be silent and live auctions, with Richard Lariviere, executive vice chancellor and provost at Kansas University, acting as master of ceremonies. Tickets are $20 and will be available at the door.
There are a few ways to sneak a peek at the artwork before the auction. Some of the art is on display in windows of downtown businesses until the day of the auction. Those locations are Prairie Pond Studio & Bead Co., 809 Mass.; Kief's Downtown Music, 823 Mass.; Sarah's Fabrics, 925 Mass.; and Wink Eyewear, 806 Mass., where Olson's featured piece is on display. On Sunday, all of the artwork can be viewed at 6 p.m., before the auction begins. Many of the pieces are also on DCAP's Web site, www.douglascountyaidsproject.org.
Copyright 2018 The Lawrence Journal-World. All rights reserved. This material may not be published, broadcast, rewritten or redistributed. We strive to uphold our values for every story published.