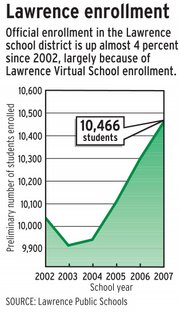 Related document

The Lawrence Virtual School continued its growth and gained 172 kindergarten through eighth-grade students from last year.
In its brick-and-mortar schools, the Lawrence public school district also has 66 more elementary students than the year before, and 69 fewer junior high and high school students.
"It did balance itself out, but I thought it'd be a little bit more on the middle," Superintendent Randy Weseman said.
On Thursday, Kansas school districts conducted their state-mandated head counts, which are key in determining school funding.
In Lawrence public schools, 10,466 total students are enrolled compared with 10,297 in 2006.
The virtual school, which opened in 2004 and enrolls students from across the state, continues to drive the district's overall growth.
Before it opened, the district saw four years of decline.
Weseman said that the district does put a cap on its virtual school enrollment and that he expected its numbers to level off as more school districts form them.
Outside the virtual school, nine of the 15 elementary schools added students, including 58 at Langston Hughes, 33 at Prairie Park and 23 at Cordley.
Hillcrest has 40 fewer students, while Sunset Hill lost 24 and Pickney lost 22.
Southwest Junior High added 17 students, while the other three junior high schools had lower enrollments.
The district has worked with a demographic firm that predicted enrollment outside the virtual school would remain steady for the next few years.
"The implications of that is we probably won't be looking at building a new school, so it means maintaining what we have," Weseman said.
Free State High School has 20 fewer students at 1,206, and Lawrence High School now has 1,316, or 27 fewer students.
Weseman also said the enrollment figures were in line with the district's budget projections.
The state will audit these numbers. Administrators said Thursday's count was more accurate than the August preliminary figures mostly because school officials sorted out what students moved or enrolled elsewhere from previous records.
Head counts:
Baldwin City: 1,419 students
Basehor-Linwood: 2,201 students
De Soto: 6,077 students
Eudora: 1,428 students
McLouth: 569 students
Tonganoxie: 1,786 students
SOURCES: Area school districts
Copyright 2018 The Lawrence Journal-World. All rights reserved. This material may not be published, broadcast, rewritten or redistributed. We strive to uphold our values for every story published.