Photo Gallery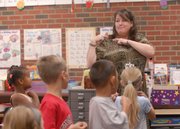 The first day of school
Summer's over - thousands of Lawrence students headed back to class today.
First day of school
The road to a successful future continues.
Most of Lawrence elementary students returned to the classroom and were happy to show off their new sneakers and backpacks Wednesday morning.
Seventh-graders and sophomores also got some help navigating their way around their new schools.
"It's fun. You get to play with your friends," said Ebony Woods, 7, a second-grader at Kennedy School, 1605 Davis Road.
Teachers and administrators indicated they were ready to pass on knowledge to new groups of students. Lawrence has 10,000 children enrolled in public schools.
"We think that reading is the backbone of all subjects and that's what will be our major focus this year," said Felton Avery, Kennedy's third-year principal.
Avery was greeting hundreds of children with smiling faces in the morning. Others were trying to make an adjustment.
"I'm a little nervous for him because it's a new school, and he'll be going all day," Cassandra Worley said.
Her 6-year-old son, Tucker, started first grade at Kennedy after attending Cordley School for kindergarten last year.
Kennedy second-grader Avery Mulally, 8, could have told Tucker everything was going to be all right.
"I can remember what it's like and how it was feeling butterflies that first day," said Maureen Mulally, Avery's mother.
At New York School, 936 N.Y., one brother and sister combo were ready to hit the books. Ashaunti Spates, 7, a third-grader, loves to read, and her brother, TreVaun Ross, 10, a fifth-grader, works with numbers.
"It's easy," TreVaun said.
New faces
Seventh-graders and sophomores learned the ins-and-outs of their new schools Wednesday morning
Isabella Rantner, 12, a seventh-grader at West Junior High, 2700 Harvard Road, was still trying to figure out her locker combination. No worries because so were hundreds of her classmates.
Teachers and older students were there to help, as they were at Central and Southwest junior high schools.
"It gives them some time to figure things out," said Frank Harwood, principal at Central, 1400 Mass.
Matt Fearing, assistant principal at Southwest, 2511 Inverness Drive, said seventh-graders also could learn about the school one day before real classes start.
Lawrence High and Free State sophomores started their days more like a pep rally. Teachers and older students, members of each school's Link Crew, were assigned to help them find classes and answer questions.
During a morning assembly in the LHS gym, sophomores were greeted as the Class of 2010, and teachers led them through cheers and games. It's way different than getting lectured to for an hour.
"This is more kid friendly," LHS Principal Steve Nilhas said.
About the same time across town, Free State sophomores were engaged in the same type of mood during an assembly.
"We do a lot to keep the 'hype level' raised," Free State junior and Link Crew member Morgan Albright said.
Classes ramp up today at all Lawrence public schools, except two.
Because of ongoing construction at the campus in the 2700 block of Louisiana Street, kindergarten through sixth-grade students at Broken Arrow School do not start until Friday. South Junior High students head back Monday.
Bishop Seabury Academy students also start today.
Copyright 2018 The Lawrence Journal-World. All rights reserved. This material may not be published, broadcast, rewritten or redistributed. We strive to uphold our values for every story published.