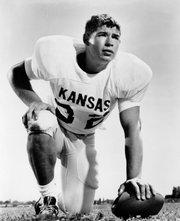 Here's the problem with the legend of John Riggins: So many unbelievable stories about him are completely true, which makes some tall tales regarding his life journey seem all too believable.
So Riggins, a former Kansas University football great, took the time to debunk one myth from his younger days when chatting with reporters Wednesday.
The legend goes that Riggins, after winning the Super Bowl MVP in 1983, arrived back at Kansas City International airport and made his way across Kansas to get home - by hiking.
"No, I've got to dispel that one," Riggins said with a laugh. "I guess when you get a certain reputation, they can attach about anything to you.
"It sounds like something I would've liked to have done, though."
Riggins, a Centralia native, doesn't make his way back to Kansas much anymore, with his work on the East Coast consuming much of his time. He still has strong ties, though - Riggins owns 160 acres in Nemaha County and remains an avid outdoorsman.
Riggins will return - presumably by car - in mid-October when his name is added to the Memorial Stadium Ring of Honor, a tribute to his three years as a bruising fullback for the Jayhawks from 1968-70.
He takes great pride in the upcoming recognition, because he sees it as "one of Kansas' own coming home to be honored. And I am deeply honored by that."
Still, his busy schedule will force him to work even while he's in Lawrence. Riggins lives in New York, but works as a sports-talk-radio host out of Washington. He does the afternoon show from New York Monday through Wednesday during the football season, then flies down to the nation's capital to do radio and television work Thursday and Friday.
Riggins, 58, plans to arrive in Kansas on Thursday, Oct. 11. He'll have to do his radio show from Lawrence that Friday, then has plans to attend Late Night in the Phog to kick off KU's basketball season later that night.
He'll then be at the Kansas-Baylor football game on Oct. 13 to be honored at halftime, before heading back to New York on Sunday.
In those three days, Riggins undoubtedly will be asked to recount some of his greatest stories: A notorious encounter with Supreme Court justice Sandra Day O'Connor (true), a cameo at a KU spring football game featuring flowers for the women and beer for the men (true), and a return to the NFL's Washington Redskins after a one-year contract holdout ended by him announcing, "I'm bored, I'm broke and I'm back" (also true).
Riggins carved out a 14-year, Hall-of-Fame career in the NFL, which coupled with his colorful personality has made him a well-known figure even today.
Even in Lawrence, a place he'll visit for the first time in a while next month.
"I've had a heck of a lot of fun," Riggins said. "As my dad used to say about the Marine Corps, 'I might not want to do it all over again, but I wouldn't trade anything for the experience.'"
Copyright 2017 The Lawrence Journal-World. All rights reserved. This material may not be published, broadcast, rewritten or redistributed. We strive to uphold our values for every story published.