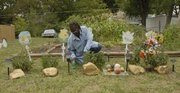 Every day since flames engulfed an East Lawrence home, taking the lives of her husband and four grandchildren, Learlean Glover has worked to reconstruct her life.
It's been an arduous, yearlong struggle.
Glover was the sole survivor of the blaze that broke out one year ago today at 1205 N.J. She was injured and suffered smoke inhalation in the fire. Within a few days, her physical wounds were healing, and she was released from the hospital.
But Glover had endured a tremendous loss. Her husband and four young grandchildren for whom the couple cared were dead. Her home was charred rubble.
As state Rep. Barbara Ballard told the Glover family during a funeral service for the five fire victims: "I don't think anyone can ever know how you feel."
In that fire a year ago, Glover lost so much. She didn't, however, lose her faith.
"I've learned we can build and we can tear down, but we have to know when to rebuild," she said during a recent interview.
She has visited the site of her former home daily. After collecting whatever she could salvage from the ashes, she transformed the lot into a flourishing community garden, a garden that commemorates the lives of Charles Glover Sr., 66; Nolan Vender, 13; DaVonte Brockman, 11; Mario Johnson Jr., 2; and Mariyana Johnson, 13 months.
Strength and faith
Glover's strength since the tragedy has awed friends and neighbors.
One neighbor, Jack Klinknett, who pulled Glover from a broken window after the fire broke out, has witnessed a transition at 1205 N.J. - from a house full of children to an empty lot and, now, to a garden that attracts neighbors, school children and passersby.
"What's so impressive is people have different ways of responding to trauma," he said. "She obviously is one of those people that met it completely head-on."
But she didn't meet it alone. Glover's foundation has been her faith in God.
"You're talking about me being strong; I give God the credit for that, because if it had not been for him, I don't think I'd have made it," Glover said. "Yes, I was pulled through the fire, but not having them after the fire, it was like, why am I here? What for? What purpose do I have? But he let me know: 'Your work here is not done. You still have a job to do.'"
She said that job now is to focus on the community and the children, "to show them the love that they showed me."
She also draws inspiration from Nolan's brother, Kamil Williams, 12, and sister, JaNessa Williams, 11, who now live with her. Before Nolan perished in the fire, she said, it was his dream to have Kamil and JaNessa live with him.
In the past year, the garden has provided a safe haven, filled with special memories for Glover, a place to help her "focus on the good things," she said.
Gardening certainly wasn't new for a member of Charles and Learlean Glover's family. Before his death, Charles Glover was a groundskeeper at Kansas University for more than 25 years, keeping tabs on the gardens and yard of Chancellor Robert Hemenway's campus home for a decade. Nolan and DaVonte, who participated in a master gardeners after-school program, and the Glovers would work together in the garden.
Remarkably, several plants from the family's garden survived the brutal fire, including Charles Glover's miniature rose bush.
Learlean Glover said the rose bush has bloomed just once since the fire. Two blossoms appeared, as if to say, "we miss you," she said with teary eyes, and then they "went back to sleep."
Five rocks painted with the names of each family member are lined together in the garden. Each family member who died has a small designated flower bed with flowers they liked. Neighbors have also contributed.
Source of inspiration
Glover has bigger plans for the lot. Her focus and her dream is to create "My House," a community building, or a day care. In a way, she would be like a grandmother to all misplaced children or anyone who wanted to visit.
"My vision is to see little children at 'My House,' playing in the flower beds. I can see them picking flowers for mom, maybe grandma," she said.
She and a longtime friend, Reta Cosby, applied to ABC's "Extreme Makeover: Home Edition," in hopes of having a building constructed on the lot.
Besides being involved in several community organizations and her church, Glover has remained involved at Nolan and DaVonte's schools. She donated two Van Go Mobile Arts benches, in memory of each boy. Nolan was in seventh grade at Central Junior High School, and DaVonte was in sixth grade at New York School.
DaVonte's teacher, Deb Temple, said last year was an emotional one at the school, especially for her and DaVonte's classmates. DaVonte's empty desk remained in the classroom. Through the year it slowly moved to the back of the classroom where it was designated as a quiet place for students.
At Central Junior High, Principal Frank Harwood said students and staff members who knew Nolan lost a "true friend."
Cosby said people need inspiration from tragedy and she hopes Learlean Glover's story provides that inspiration to others who are going through a difficult time.
"There's a brighter day after all of it," Cosby said.
Copyright 2018 The Lawrence Journal-World. All rights reserved. This material may not be published, broadcast, rewritten or redistributed. We strive to uphold our values for every story published.