A three-alarm fire early this morning at 1205 N.J. killed at least two people, officials said.
Sunday evening, the dead were identified by authorities as Charles Glover Sr., 66, and Mariyana Johnson, 13 months.
Three other people, believed to be at the East Lawrence home when the fire broke out, were unaccounted for as of 7 p.m., according to Lawrence Fire Marshal Rich Barr.
One person survived the fire, Barr said at an early afternoon news conference. That person, whom he did not identify, was described as "conscious and hospitalized."
Glover had been identified earlier in the day, by friends and family, as one of the fire victims.
His son, Charles Glover Jr., spent most of the day comforting his sister and other close family members.
"This is a trying time for me and the family," he said.
His father lived with four grandchildren at the house, where Glover Sr. lived in for the past five or six years.
"He was just being a grandpa," Glover Jr. said.
Photo Gallery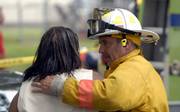 Fire at 1205 N.J.
Property records and Journal-World archives indicated the home was owned by Learlean Hooks. The archives indicated she operated a food stand, Captain Hooks Barbecue, at least through 2004, based at 1205 N.J.
Barr said that the badly damaged house would have to be stabilized - probably by heavy equipment - before investigators could move into the house to seek both victims and answers to what caused the fire. At least one agent from the federal bureau of Alcohol, Tobacco and Firearms was on the scene to assist.
"We are conducting a major and calculated investigation," Barr said. He added later: "We may have to remove pieces of the building" in order to go forward with the search and investigation.
Barr said two police officers, one sheriff's deputy and one firefighter were injured; all were treated at LMH and released.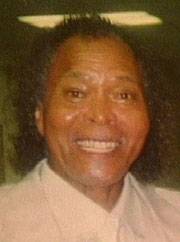 "They were very early here," Barr said of the injured emergency responders, "and they were assisting in some of the rescue of individuals in the back" of the structure.
Barr said dispatchers sent the first alarm at 12:43 a.m. Sunday, then a second alarm at 12:47 a.m., and a third alarm at 1:23 a.m. The first fire crew arrived at 12:48 a.m.
The fire was declared "under control" at 2:31 a.m. Crews remained at the scene, fighting hot spots, as of 5 a.m. The structure was still unsafe to enter, Barr said.
Stacy Hund lives across the street. Hund was awoken 12:45 a.m. when police arrived in the neighborhood. "The whole front of the house was up in flames," Hund said. "It brought everybody out of the house. It was not something you expect to see in the middle of the night . It's horrible."
Another neighborhood resident, Robert Coffman, said the fire spread quickly.
"What woke us up was a window-breaking sound, pops," Coffman said. "We got here and there were flames coming out of the basement; the front porch was completely on fire."
Coffman said the house was "completely engulfed" by the time firefighters arrived, with the flames aided by strong, storm-driven overnight winds.
"There was just no way," he said. "It was too fast."
Before dawn, Mayor Mike Amyx was on the scene comforting the fire victims' family. He declined to identify the victims. "Folks I know, " he said. "It's just a real tragedy, It really is."
At 6:50 a.m. fire investigators began walking up the 1200 block of New Jersey writing down car tags and other identifying information from cars parking in the neighborhood. By early afternoon, they were canvassing neighborhood residents.
1205 N.J.
Copyright 2018 The Lawrence Journal-World. All rights reserved. This material may not be published, broadcast, rewritten or redistributed. We strive to uphold our values for every story published.