A fire early Sunday destroyed an East Lawrence home, killing at least two and leaving a longtime Lawrence family grieving.
The fire at 1205 N.J. killed Charles Glover Sr., 66, and Mariyana Johnson, 13 months, one of his four grandchildren who lived with him at the home.
The three other children still are missing in the collapsed home, but crews are now looking only for their bodies, said Mark Bradford, Lawrence-Douglas County Fire & Medical chief.
Glover's wife, Learlean, survived the fire after being pulled from the flames by neighbors and emergency crews. She was conscious and in good condition Sunday night at Lawrence Memorial Hospital, Bradford said.
Investigators continued to search for the fire's cause late Sunday. The fire so badly damaged the home that investigators couldn't get back in to search for victims or determine a cause because the walls of the home were unstable.
Heavy equipment began demolishing unstable parts of the home's remnants Sunday night, and Bradford said crews would work to establish a cause and find the rest of the children.
"We'll be working through the evening to recover those individuals," Bradford said.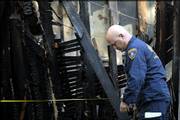 To help search the collapsed and smoldering house, Bradford and other officials constructed a multiagency task force that included the Lawrence Police Department, Lawrence-Douglas County Fire & Medical, Douglas County Sheriff's Department, the state fire marshal's office and federal agents from the bureau of Alcohol, Tobacco, Firearms and Explosives.
Crews worked at the scene since 911 dispatchers heard the first calls of a possible fire early Sunday.
A neighbor called dispatchers minutes before 1 a.m. Sunday, reporting flames and smoke from the two-story home.
One alarm was pulled. When police arrived minutes later, they called for a second alarm and began searching the home for people inside.
Difficult decision
But in those few frantic minutes before emergency crews arrived, neighbors had to make a decision: Wait or act. The neighbors wouldn't wait.
Directly behind the Glovers' house, Cindy Suenram spent Saturday night up later than normal in her home at 1204 N.Y.
In her upstairs bedroom, a noise rang out. It sounded, she said, like metal raking against concrete.
She looked out of a window at the back of the house she shares with husband Arch Naramore.
Photo Gallery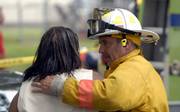 Fire at 1205 N.J.
Fire at 1205 N.J.
Fatal fire at 1205 N.J.
"I just saw flames. Big, orange flames," Suenram said.
About 12:45 a.m., Suenram called 911. A fire, she said. There were people inside.
But Suenram couldn't wait.
"She just ran out the door," Naramore said.
Running across the alley, Suenram started yelling the Glovers' names. All of the Glover family cars were parked in the driveway, she could see.
She ran back inside her home. The minutes passed like days.
"It seemed like it had been forever," Naramore said.
They called 911 again. Sirens blared through the neighborhood.
Suenram said she heard cries from inside the burning home, and she didn't yet see firefighters or police.
"I heard her hollering: 'Help me, help me,'" Suenram said.
The voice she heard belonged to Learlean Glover, coming from a downstairs bedroom. Suenram again yelled for help, she said.
Two neighbors, Paul Lampert and Jack Klinknett, heard the cries. They ran to the alley between New York and New Jersey streets.
"'Paul, we've got to get the people out of the house,'" Lampert said about Klinknett's reaction.
Lampert began kicking at the metal back door, with no luck. Searching, he found a wood beam to beat the door.
"I thought I'd use it like a battering ram," he said. "I kept battering the door with it until it wore me out. But it wouldn't budge."
Desperate, he threw something through a kitchen window in the back of the house.
Then neighbors heard the cries.
"I can't find the baby. I've got to get the baby," Suenram remembered hearing.
Finding victims
Around the north side of the home, they found a half-broken window. Behind it they saw Learlean, and broke out the rest of the glass.
"Smoke was just gushing out around it," Lampert said.
Lampert, Naramore, Klinknett and the first emergency crews pulled Learlean through the window.
By then, firefighters were inside the house, searching for more people. Lampert said he tried to look in through the window, but smoke overwhelmed him.
The firefighters found the baby, Mariyana Johnson, first.
They brought her outside, and seconds later discovered Charles Glover Sr.So the firefighter handed Lampert the child.
"The baby was hot," he recalled, swaying where he stood. "She was real hot."
He watched her as he walked around the house to give her to another firefighter. Soot was caked on her face and flowed from her nose, Lampert said.
Lampert then went to a side window and helped two firefighters remove Glover, he said.
"We carried him to the back alley," Lampert said.
There, Naramore and Suenram watched as emergency crews did everything they could to save Glover's life.
"They worked on Charles for a long time," Suenram said. "But he never responded."
After that, fire officials told everyone around the house to get away. The flames were getting too dangerous.
Lampert walked back over to his house and sat on his front steps. He began coughing and hacking. He'd later go to the hospital for smoke-related problems.
Offered blankets, Naramore and Suenram just went to a neighbor's house. Suddenly, everything that happened in Sunday's first hours began to sink in.
"It just kicks in," Suenram said. "Then there's such a helpless feeling."
Waiting, hoping
The helpless feeling didn't end there.
As the sun cracked the morning sky, friends and family of Charles Glover Sr. began to gather around the smoldering home.
"We're all just trying to take this in," Charles Glover Jr. said.
All morning and into the afternoon, Glover Jr. and the rest of the Glovers' close and extended family watched emergency crews work to get inside the collapsed home to search for the children.
"We're all just waiting," said Cory Bryan, Learlean's daughter-in-law.
Standing by the Douglas County Emergency Management van, Bryan, like so many others, had a Red Cross blanket draped over her shoulders.
"It didn't help," she said of the blanket. "I'm still shaking."
She talked to friends, telling her story of the first word of the fire.
"When I got the call, I said, 'What?' They told me again," Bryan said.
Every so often, another friend or family member would walk up the sidewalk, crying even before they saw the ruins of the home. Family members met them with tears and long embraces.
In the early afternoon, fire and police officials called the family over to explain what they had learned. It wasn't much so far. They hadn't found other bodies yet.
Other fatal fires in Douglas County
It has been at least 30 years since one fire in Douglas County killed at least five people, according to fire officials. ¢ In August 1976, five members of the Kappa Sigma fraternity at Baker University died in an early-morning fire cause by careless smoking. ¢ In January 1993 in Lawrence, two separate fires within a week killed five people. In mid-January at the Gaslight Village mobile home park, a 32-year-old woman set fire her to home, killing herself and her two children. Police ruled the incident a murder-suicide. Less than a week later, two teenagers died in an apartment fire in the 700 block of West 25th Street. Investigators ruled that blaze arson. ¢ Last October, three people died in a fire at the Boardwalk Apartments that prosecutors say was set intentionally. Jason Rose is accused of that early-morning Oct. 7 fire. He is due to go to trial in February.
Mayor Mike Amyx, a friend of the family, joined them. City Commissioner Sue Hack and interim City Manager David Corliss followed.
After the meeting, Amyx stuck around with the family, offering what he could: an ear to talk to, a place to blow off steam.
"You ever need anything for your family, you just let me know," Amyx told them.
Close congregation
Around the same time, the Rev. Paul Winn stood outside Praise Temple Church of God in Christ, 315 E. Seventh St., waiting to begin Sunday's services.
Just hours before, Winn said he was at the hospital with Learlean, checking on her condition after everything that happened.
"She's still trying to recover from the loss, the emotional and the physical," Winn said. "She was overrun when she got the news."
Charles Glover Sr. was considered a deacon at the church, Winn said. The longtime Kansas University groundskeeper and his family had attended the small church for years.
He held the small congregation tightly, Winn said.
"When you have a small church, it's so good to see closeness," he said.
Now, Winn and others will do what they can to help the Glover family.
Winn said he planned to meet with the family today to set up a memorial fund at the church. And at New York School, where the Glovers' older grandchildren may have attended, the school district's crisis response team will be ready to assist if needed.
On Sunday at Praise Temple, the three-member choir sang, a keyboardist and drummer played, and thoughts circled around the Glover family.
After songs and praise, Winn took the pulpit.
"We pray a prayer for sister Glover! Somebody's heart is broken."
Eyes welled in the church. Almost at once, members of the small congregation cried in their seats.
Sunday, church members - as with many close to the Glovers - searched for answers.
But as Winn said while waiting to preach: "Nobody really expects tragedy, but it still happens. It still comes."
1205 N.J.
Copyright 2018 The Lawrence Journal-World. All rights reserved. This material may not be published, broadcast, rewritten or redistributed. We strive to uphold our values for every story published.