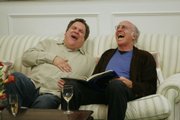 New York — Jeff Garlin isn't long into his comedy set when he announces to the audience: "I'm never nervous."
Calmness in the face of many things - an improvising Larry David, repeated production halts for his new film "I Want Someone to Eat Cheese With" - has served Garlin well.
As David's agent and sidekick on "Curb Your Enthusiasm," which is made in only a roughly scripted manner, Garlin never flinches. He appears almost serene next to David's hysterical paranoia. The comedy series, for which Garlin is also an executive producer, has just returned for its sixth season on HBO.
"To not be in the moment is to deny so much comic possibility," the 45-year-old comedian said during a recent interview over breakfast at a Manhattan hotel. "By being in the moment, you are being true to the art form."
The moment has finally arrived for "I Want Someone to Eat Cheese With," a film that Garlin wrote, directed and stars in. It opened last week in New York, premiered in Los Angeles and other cities Friday, and further expands later this month. It's also available on demand on cable channel IFC.
"I can't believe it's actually out. I've reached my goal," Garlin says. "I got a release and a review in The New York Times - a rave. I'm done."
It was about 1997 when Garlin began the script for "I Want Someone to Eat Cheese With," a deadpan semi-autobiographical story about a Chicago comedian who's fired from Second City and dumped by his girlfriend in quick succession.
Garlin struggled to find financing, which twice fell through. He shot it in 18 days, but those days were spread out over two years. Garlin cast the film mostly with comedians he's known through the years, including Sarah Silverman, Amy Sedaris, Bonnie Hunt and Dan Castellaneta.
"I have a sense of resiliency," Garlin says of bringing his film to theaters. "They knock me down, I just get back up. I don't get emotional."
The reviews have been positive. The film offers a pitch-perfect picture of loneliness and quiet desperation, populated with wry observations on life a la Paddy Chayefsky's "Marty" - for which Garlin's character repeatedly professes his devotion.
"It's like an Albert Brooks or Woody Allen movie, only not as good and I star in it," Garlin says. "But there aren't a lot of movies like that."
Since he was 8 and saw Jimmy Durante perform, Garlin knew he wanted to be a comedian. He's spent his entire career as a standup, character actor and improv player.
"I'm just a lucky guy," he says. "I'm lucky because I crossed paths with Larry David. I think that, yeah, I'm talented, I'm a funny guy. But I'm lucky because there are talented, funny guys that haven't gotten my career opportunities."
It was Garlin who suggested to David that he film everything surrounding his post-"Seinfeld" comedy special on HBO, thereby leading to "Curb Your Enthusiasm." On the show and in his movie, Garlin often plays the straight man to those around him: he's a comedy enabler.
He places the odds for another season of "Curb" at 50/50, "because that's what Larry says." But Garlin isn't as positive about the prospect of another season as you might expect.
"It's a great job, but I'd like to move on and do whatever's next," he says. Still he adds: "But I'm not going to be the jerk that stops 'Curb Your Enthusiasm.'"
Copyright 2018 The Associated Press. All rights reserved. This material may not be published, broadcast, rewritten or redistributed. We strive to uphold our values for every story published.