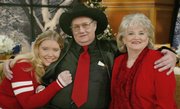 Mount Hope, W.Va. — In his darkest moments, Jack Whittaker has sometimes wondered if winning the nearly $315 million Powerball game was really worth it.
The jackpot that was the stuff of dreams turned into a nightmare: His wife left him and his drug-addicted granddaughter - his protege and heir - died. He endured constant requests for money.
Almost five years later, Whittaker is left with things money can't cure: His daughter's cancer, a long list of indiscretions documented in newspapers and court records, and an inability to trust others.
"I don't have any friends," he said in a lengthy interview with The Associated Press. "Every friend that I've had, practically, has wanted to borrow money or something and of course, once they borrow money from you, you can't be friends anymore."
Whittaker was a self-made millionaire long before he became a lottery winner, having built a pipeline business worth $17 million. Then he hit the Powerball in December 2002.
No retirement plans
The prize was worth $314.9 million. Whittaker opted for the lump-sum payout of $170 million - $93 million after taxes.
He still has plenty of money. And instead of retiring, the 59-year-old starts his day at 5 a.m., juggling ventures in construction, real estate, used cars, even movies. Work is the last remnant of his old life.
"Nothing else is normal," he said, sounding simultaneously gruff and sad.
His appearance has changed little. His blue eyes still twinkle when he tells a joke, his cowboy boots are worn from wear, and his grin remains toothless. He's too busy, he says, to pay attention to looks.
By his own estimate, he's brought water and sewer service to some 100,000 homes and still does some good by providing 200 high-paying jobs.
"Probably the lowest-paid man in my construction company is, I'd say, $36 an hour," he said. "That's a good wage for any part of West Virginia."
Whittaker's family never wanted for anything, and he admits they have long been accustomed to a lifestyle most would consider lavish.
With every change of the seasons, new wardrobes filled their closets. The paint job on one of his granddaughter's many cars cost $16,000. Even the family's marble mausoleum towers over nearby grave markers in the hilltop cemetery in Jumping Branch.
But winning the Powerball was a different kind of wealth that brought instant celebrity status.
Legal problems abound
Whittaker's struggles with drinking, gambling and philandering became public, and tales of his transgressions were retold with relish.
His home and car were repeatedly burglarized. At a strip club, thieves broke into his Lincoln Navigator and stole a briefcase stuffed with $245,000 in $100 bills and three $100,000 cashiers checks. The briefcase was later found, with the money.
Whittaker was charged twice with driving while under the influence and sued repeatedly, once by three female casino employees who accused him of assault.
In all, Whittaker says, he's been involved in 460 legal actions since winning. He recently settled a lawsuit that alleged his bank failed to catch $50,000 in counterfeit checks cashed from his accounts.
Jack Whittaker Foundation
Jack fell in love with Jewell when he was in eighth grade and she was in seventh. The couple filed divorce papers three years ago but have yet to sign them.
"I don't know any normal person who could have a marriage with everything that's been written about me that's not true," Whittaker said.
The couple's daughter, Ginger McMahan, has battled cancer for years. The disease is in remission, though she remains in poor health.
Whittaker says he hasn't been stingy. The Jack Whittaker Foundation has spent $23 million building two churches. His family donates food, clothing and college scholarships to local students, "but all the big work with the foundation is completed," he said.
Whittaker is also done with boozing - which, on his worst days, involved a fifth of vodka. He says he drank in part because he was worried about granddaughter Brandi Bragg, who shared his independent, headstrong personality and knew from a young age she wanted to run her Paw Paw's businesses.
"She was going to inherit everything," Whittaker said. "Everything that we have was built in a way that it went to her on her 21st birthday."
She never saw that day, dying at 17 after struggling with drug addiction.
The state's autopsy found Bragg had pills and a syringe tucked into her bra, and died with cocaine and methadone in her system. But the manner of her death is officially listed as "undetermined."
"If it would bring my granddaughter back, I'd give it all back," Whittaker said of his jackpot. "But I can't get her back, so might as well keep the money, I guess."
Whittaker has little doubt as to his own legacy.
"I'm only going to be remembered as the lunatic who won the lottery," he said. "I'm not proud of that. I wanted to be remembered as someone who helped a lot of people."
Copyright 2018 The Associated Press. All rights reserved. This material may not be published, broadcast, rewritten or redistributed. We strive to uphold our values for every story published.