On the street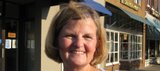 Never stop dreaming.
Lawrence grandparents offer some food for thought to younger generations. Here's what they had to say:
Julia Galas, 87, has two children, one granddaughter and one great-grandson. She said health and family are more important than material things. She encourages people to be honest and not steal. She grew up in Chicago and remembers walking home at 10 p.m. from a dance and feeling safe. "I wouldn't take a walk around the block now (in Chicago)."
Carol Johns, 77, has four children, 10 grandchildren and seven great-grandchildren. She advises people to have faith in the Lord, be frugal and, most importantly, enjoy life. She enjoyed raising her children. "The best times are when you are raising your children. You might not think so at the time," she said. "There's ups and downs, of course, but it's a happy time."
Mel Lisher, 73, has two sons and five grandchildren. He believes in supporting the country, schools and community. He encourages people to use common sense. He said his life has been wonderful, especially after marrying Rebecca Boeck almost 54 years ago. Lisher advises couples to stick it out through the ups and downs. "You can't just run off if you have a little argument or something. You've got to use a little sense about it." A sense of humor also helps. "She's had a few arguments; I haven't," he said laughing. "We've had a heck of a life."
Lois Mead, 70, has two children and grandpets. The animal lover enjoys watching her children's dogs and cats. She even took in Margo the cat when her daughter moved to London - "she loves her grandma." She advises people to make themselves available for family and friends. "Everybody needs someone. : I don't like to be alone, and I just think everybody needs someone to care for them and be there for them in ups and downs."
Arthur Sayles, 80, has six children, a stepson and 14 grandchildren - and soon will become a great-grandfather. Sayles said he has had several "close calls" and doesn't take life for granted. He advises people to have respect for others' property and to stay off drugs. "We had to work until dark when I was a kid; today's kids don't. You see them wandering the streets."
Arnold Weiss, 92, has two daughters who live overseas and twin grandchildren. The retired Spanish teacher said the best years of his life were raising his children as a single father. Weiss encourages people to fulfill their dreams while they are young. "I am sorry that I didn't do when I was younger what I would like to do now."
Copyright 2018 The Lawrence Journal-World. All rights reserved. This material may not be published, broadcast, rewritten or redistributed. We strive to uphold our values for every story published.