On the street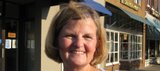 Never stop dreaming.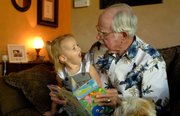 Celebrate with swim
In honor of Grandparents Day, the Lawrence Parks and Recreation Department is offering a free swim today for grandparents if they are accompanied by a grandchild.
The free swim will be from 1 p.m. to 5:45 p.m. at the Indoor Aquatic Center, 4706 Overland Drive, which has water slides, diving boards, interactive spray features, water volleyball areas and water basketball areas. There also is a zero-depth entry.
Grandparents have a wealth of knowledge.
"My mother used to say when a grandparent dies, it's the same as a library burning down because all of that information is stored in that grandparent's brain, and if you haven't tapped into that, it's gone," said DJ McQuade-Lancaster, daughter of Marian McQuade, founder of Grandparents Day, which is today.
McQuade-Lancaster, of Chula Vista, Calif., and coordinator of the National Grandparents Day Council, said her mother's interest in the elderly began at an early age.
"When she was a little girl in West Virginia, the elderly would be out in the sticks in these houses, and they wouldn't see anybody for weeks. Her grandmother would take her by the hand : and take food to these elderly that lived in the hills.
"My mother was so impressed by the elderly that she just thought they were the salt of the earth."
Marian McQuade - who has 15 children and 40 grandchildren - later became an advocate for the elderly and founded the first Grandparents Day in 1973 in West Virginia. But she didn't stop there. It became a national holiday in 1978.
McQuade-Lancaster's advice is to make use of today.
"The purpose of Grandparents Day is to honor grandparents and to give the children an opportunity to tap into the wisdom and heritage of their grandparents."
'Golden Rule'
When the Journal-World asked Lawrence grandparents to share their advice, some offered plenty. Others said they didn't feel qualified or simply laughed.
One such grandparent was Eva Stallworth, 84, mother of former Kansas University basketball star Bud Stallworth. She has been in Lawrence for the past four months visiting her son and daughter, Eunice Ebert-Stallworth, and volunteering at the Lawrence Senior Center.
After a few laughs and some careful thought, she decided on her advice: Live by the Golden Rule.
"Do unto others as you would have them do unto you," she said.
Stallworth, a retired teacher, said it also is important to get an education and is proud that her four children have college degrees.
John Studdard, 75, said he was fortunate to get a Bachelor of Science in business administration at KU in 1956.
"Education supposedly broadens your viewpoint on life and the activities of life and gives you the ability to make choices," he said. "You kind of learn to stand on your own two feet when you go to college."
Another piece of advice from Studdard is to be open to change.
"I've always heard that death and taxes are two things that you can count on, but I would add a third one: change.
"I've had a lot of changes in my life. For example, back in the '60s, '70s and '80s, I never envisioned myself being divorced and remarried."
He also never expected to become a grandfather, which happened four years ago when he married his second wife, Audrey Kamb-Studdard. He now has two granddaughters, Lindsey Griffin, 11, and Christa Griffin, 9.
"He's handling it pretty well, I think, for being thrown into it," Kamb-Studdard said.
'Do your best'
On the flip side, Chuck Benedict, 81, decided to live with his oldest granddaughter, Sarah LaDuke, and her husband, Aaron LaDuke, and their 21-month-old daughter, Finley LaDuke. They began living together two years ago, a move Benedict calls a win-win situation for everyone.
When he's not spending time with family or friends, he is a greeter at the Hy-Vee Food Store at Clinton Parkway and Kasold Drive. Benedict said he still lives by his father's advice, which is "always strive to do your best."
Like many Lawrence grandparents, Benedict's life hasn't been easy. He lost his first wife to cancer. His second wife has Alzheimer's disease, and one of his grandchildren has Down syndrome. A granddaughter died at age 2. And his favorite dance partner recently received a cancer diagnosis and was given a year to live.
"Life is like a card game. You wished you got four aces at every hand. But you don't, and you have to play with what cards are dealt to you," he said.
But he is happy with his hand and to still be playing the game.
"I am very blessed," he said.
Copyright 2017 The Lawrence Journal-World. All rights reserved. This material may not be published, broadcast, rewritten or redistributed. We strive to uphold our values for every story published.