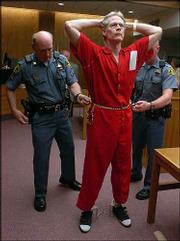 A former professor convicted of killing his ex-wife in November 2003 takes his case Thursday to the Kansas Supreme Court - and attorneys' arguments will be played live online at the court's Web site.
Thomas Murray was convicted in March 2005 of stabbing and beating Carmen Ross, 40, at her home northwest of Lawrence. The case received national attention, and was featured on CBS' "48 Hours" program.
Murray was teaching English at Kansas State University at the time of the murder.
Jurors found Murray guilty of first-degree murder, based largely on his suspicious statements and actions after Ross' death, even though there was no physical evidence clearly linking him to the crime. He was sentenced to life in prison.
The court is scheduled to hear his appeal Thursday, starting about 9:20 a.m. The audio - which can only be heard with a Windows Media Player - can be found at the court's Web site.
Copyright 2018 The Lawrence Journal-World. All rights reserved. This material may not be published, broadcast, rewritten or redistributed. We strive to uphold our values for every story published.