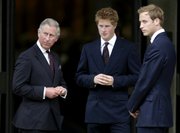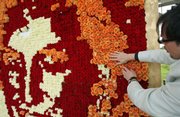 London — Princess Diana should be remembered as a loving, down-to-earth mother, Prince Harry said Friday at a memorial service where a bishop urged an end to a decade of bitterness over her death and her broken marriage.
The service organized by Prince William and Prince Harry climaxed a week of recalling Diana's life and re-fighting old battles, albeit in a far lower key than the emotional tidal wave that swept over Britain following her death 10 years ago.
In his eulogy, Harry said it was important "that we remember our mother as she would wish to be remembered, as she was: fun-loving, generous, down to earth and entirely genuine."
The service went off with typical royal dignity, following published criticism from one of Diana's friends that persuaded Prince Charles' second wife, Camilla, to abandon plans of attending. To the princess, her close friends and legions of Dianaphiles, Camilla was the other woman who destroyed the marriage.
Richard Chartres, the bishop of London, called for an end to the sniping.
"Still 10 years after her tragic death there are regular reports of 'fury' at this or that incident and the princess's memory is used for scoring points. Let it end here," Chartres said.
"Let this service mark the point at which we let her rest in peace and dwell on her memory with thanksgiving and compassion."
Diana's face still sells magazines and newspapers, and her story inspires an unending stream of books.
A formal inquest into her death opens later this year. Mohamed al Fayed, whose son died with Diana in the car crash in Paris, has deployed a high-paid legal team to argue his belief that the couple were the victims of an Establishment conspiracy led by the queen's husband, Prince Philip.
A poll commissioned by Channel 4 television found that 25 percent of the public believes Diana was murdered. The telephone poll of 1,016 adults conducted this week had a margin of error of plus or minus three percentage points.
Queen Elizabeth II and Prince Philip were among the 500 people in the chapel. Prince Edward, Charles' younger brother, and his sister, Princess Anne, also were there, as were Prime Minister Gordon Brown, former prime ministers John Major and Tony Blair, and representatives of 110 charities Diana supported.
Copyright 2018 The Associated Press. All rights reserved. This material may not be published, broadcast, rewritten or redistributed. We strive to uphold our values for every story published.