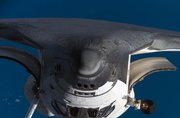 Cape Canaveral, Fla. — Astronauts added a new room to the international space station on Friday in the way of Harmony.
That's the name of the school bus-size compartment that was attached by a team of spacewalkers working outside and robot arm operators working inside.
"I don't know that anybody's ever told our crew that we bring harmony with us, but we sure bring fun," Discovery's commander, Pamela Melroy, said as the spacewalk ended and the congratulations began.
The Italian-built Harmony - 24 feet long and 31,000 pounds - was unloaded from the shuttle's payload bay and hoisted into place by the space station's robot arm. It is a temporary location; it will be moved to its permanent spot once the shuttle leaves. European and Japanese laboratories will latch onto Harmony in the coming months.
"Now the crews that are hot on our heels have a place to come," spacewalker Scott Parazynski said.
It was the first of five spacewalks planned during Discovery's space station visit, and the first pressurized compartment added to the orbiting complex in six years.
The space station's living space grew by 18 percent with the addition of Harmony. The astronauts will enter Harmony today.
NASA confirmed Friday that Discovery's astronauts will not have to conduct anymore inspections for launch damage and that the shuttle's thermal shielding appears to be in good condition for the Nov. 6 re-entry. An inspection will be done two days before landing, however, to check for any possible impacts from orbital debris.
Parazynski and his spacewalking partner, Douglas Wheelock, helped prepare Harmony for the demanding robot arm operation by Stephanie Wilson and Daniel Tani.
The two spacewalkers also disconnected ammonia coolant lines from a giant girder that will be moved along with a set of solar wings to another spot on the space station next week. They put covers over a radiator and electrical boxes on the girder to keep them warm.
Copyright 2018 The Associated Press. All rights reserved. This material may not be published, broadcast, rewritten or redistributed. We strive to uphold our values for every story published.