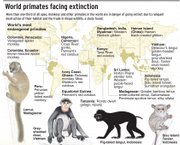 Bangkok, Thailand — Almost a third of all apes, monkeys and other primates are in danger of extinction because of rampant habitat destruction, the commercial sale of their meat and the trade in illegal wildlife, a report released today said.
Of the world's 394 primate species, 114 are classified as threatened with extinction by the World Conservation Union.
The report by Conservation International and the International Primatological Society in Hainan, China, focuses on the plight of the 25 most endangered primates, including China's Hainan gibbon, of which only 17 remain.
"You could fit all the surviving members of the 25 species in a single football stadium; that's how few of them remain on Earth today," said Russell A. Mittermeier, president of Conservation International.
"The situation is worst in Asia, where tropical forest destruction and the hunting and trading of monkeys puts many species at terrible risk," said Mittermeier, who is also chairman of the World Conservation Union's Primate Specialist Group, which prepared the report with the International Primatological Society.
The 25 most endangered primates include 11 from Asia, 11 from Africa and three from South and Central America. The list includes well-known primates like the Sumatran orangutan of Indonesia and the Cross River gorilla of Cameroon and Nigeria, as well as lesser known species, such as the greater bamboo lemur from Madagascar.
Six species are in the report for the first time, including a recently discovered Indonesian tarsier that has yet to be formally named and the kipunji from Tanzania, which was discovered in 2003.
"Some of the new species we discover are endangered from the get go," Mittermeier said. "If you find a new species and it's living in an area heavily impacted by habitat destruction and hunting, you recognize it's in trouble."
Habitat loss due to the clearing of tropical forests for agriculture, logging and fuel wood continues to be the major factor in the declining number of primates, according to the report.
In addition, climate change is altering the habitats of many species, leaving those with small habitat ranges even more vulnerable to extinction, it says.
Hunting for subsistence and commercial purposes is another major threat to primates, especially in Africa and Asia. Capture of live animals for the pet trade also poses a serious threat, particularly in Asia, the report found.
Copyright 2018 The Associated Press. All rights reserved. This material may not be published, broadcast, rewritten or redistributed. We strive to uphold our values for every story published.