Photo Gallery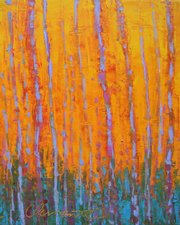 Paintings by Debra Clemente
On the street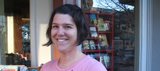 Yes. I love to drink wine, but I had to give it up for a whole year to have a baby.
'Painted Memories'
What: Paintings by Debra Clemente
Where: Phoenix Gallery, 2900 SW Oakley Suite F in Topeka
Hours: 10 a.m.-8 p.m. Monday through Saturday, and 11 a.m.-5 p.m. Sunday
Six years ago, Debra Clemente took the backroads from her home in Lawrence to her native Wichita.
The trip, which usually takes 2 1/2 hours, took seven. She photographed the flowers, grasses and hills she saw along the way.
She saw vibrant hues - a contrast to the stereotypically boring sights most people think of.
"I see Kansas that way," she says. I want others to see that, too."
The result was a set of paintings that are on display at the Phoenix Gallery in Topeka.
The exhibition represents both an evolution in thought for the native Kansan and a major physical accomplishment - Clemente suffers from rheumatoid arthritis, celiac disease and, because of her hard work on the project, carpal tunnel syndrome.
But she's not backing down from her art, as difficult as it may be at times.
"It's really scary," she says. "This is what I do. I have to do this. I have all these things I have to express."
'My path'
Clemente majored in visual communications at Kansas University and worked for a few years as an illustrator. She also has helped her husband, David, who is a home-builder.
About 12 years ago, she decided to start to do her own paintings. Instead of painting with oils and a brush, she layered the oils on with a palette knife.
"I'm really glad that is the way I took my path," she says. "Along the way, I created my own signature, my own path. In the end, to market yourself, you have to be unique."
Now, Clemente's process works this way: She spreads out globs of paints into paper napkins, then uses a 5-inch knife to layer the paints onto a canvas. She usually has to complete her paintings within a few days or the paintings dry out too much to get the right layering.
"Most of the time," she says, "there's a blending effect, so it's not so separated."
Health concerns
Clemente suspects she's caused some of her own health problems through the years.
"I'd been pretty stupid with the way I cleaned up," she says. "I'd clean myself with paint thinner."
Now, making art with a palette knife means she can use bigger hand motions that don't hurt her arthritic hands as much as using a brush might. Still, she worked so hard on this show that she ended up with carpal tunnel syndrome - and that comes after last December, when she ruptured a disc in her back and had to undergo surgery.
"Necessity allowed me to do what I ultimately wanted to do with my oils anyway," she says.
Her style of painting has earned her a top-tier art fan.
A painting of a sunflower by Clemente was included in an art exhibition at Gov. Kathleen Sebelius' office last year. Sebelius liked the painting well enough a donor was identified to purchase it, and now it hangs over her personal desk in her office.
"I think the painting is beautiful," Sebelius says. "It reminds me of the natural beauty of Kansas and this wonderful flower which turns to find the sun and provides beauty as well as great nutrients - a perfect Kansas symbol."
Changing styles
Over time, Clemente's work has become more abstract. Her latest exhibition at the Phoenix Gallery has brightly colored wheat fields, a barn that glows blue in the twilight sun and neon-blue Kansas skies.
"She really took a chance," says Kyle Garcia, the Lawrence resident who owns the gallery. "The color is extremely bold. It's a spin on Kansas that I don't think a lot of people have seen yet."
What they find is a mix of familiar and unfamiliar - common scenes painted in an uncommon way.
"Rural people get it," Garcia says. "In fact, they might have gotten it more. They've seen these scenes, but they haven't intellectualized them."
Clemente, a lifelong Kansan, says she's glad others have been receptive to a new look at the state she loves.
"I've wanted to paint Kansas the way I see it," she says. "I don't have to go to Italy to paint. I have it here. They always say, 'Paint what you know.' This is what I know."
Copyright 2018 The Lawrence Journal-World. All rights reserved. This material may not be published, broadcast, rewritten or redistributed. We strive to uphold our values for every story published.