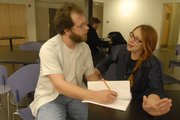 Past Event
When: Friday, October 19, 2007, 8 p.m.
Where: Lawrence Arts Center, 940 New Hampshire St., Lawrence
Cost: $6
-->
-->
Playwright Dave Hoover grew up in places with names such as "Mystic Darkness" and "The Dungeon of Death."
They were shadowy, terrifying locales where fear became the one constant commodity.
"Theater with horror came naturally for me. That's because my dad ran and managed haunted houses in downtown Kansas City from the time I was 4 years old to the time I was 18," Hoover says.
Now Hoover is combining that horror background with his theatrical skills by authoring "Death's Door Knocking," one of four short plays that comprise "Horrorshow." Lawrence's E.M.U. Theatre is staging the production during the weeks leading up to Halloween, providing audiences the opportunity to get petrified in an atypical setting.
"I think what scares live audiences is breaking down the fourth wall," says Hoover, who additionally wrote the overall story arc of the show, including its surprise ending. "It's that idea of having to interact with strangers; the idea of becoming part of the show and not knowing what you're doing."
Also scaring the E.M.U. staff is the overall conceit of "Horrorshow."
"It's challenging to stage horror theater because it's not a well-established genre in the popular psyche," says Honey D. Hallock, E.M.U.'s artistic director.
"We explore those ideas in our culture through film. In many ways, I feel the piece we are producing is a piece of theater in a cinematic genre."
In addition to Hoover's contribution, the other three entries include "The Priest" by Jeff Sorrels, "Rent a Monster" by Dean Bevan and "The Dwelling" by Brent McCall.
These deal with subjects ranging from a military veteran who is confronting the consequences of his past to a group of revelers who realize they are unable to control the creatures they have summoned.
"The only real connection is that they're scary," Hallock says. "But all four stories deal with a very different kind of fear, whether it's internal, social, the fear of the unknown or the fear of self."
The oblong box
E.M.U. Theatre organizers first kicked around the idea for an original horror production in 2003 after staging an Edgar Allan Poe-inspired piece titled "And Much of Madness."
"We noticed the Lawrence Arts Center had the first two weekends before Halloween open," recalls Sorrels, E.M.U. Theatre's producer. "So we decided that we would talk to all the people who were associated with E.M.U. and threw out an open call: Write us a horror-themed script or Halloween script. Obviously, we didn't tell them it had to be a slasher or 'Zombie Blanket a-Go-Go.' We let people decide what they wanted to do."
A zombie piece was the first submission. Then other more impractical scripts followed.
"A lot of people who we work with are younger and they always think of horror as a 'movie,'" Sorrels says. "We got several scripts that we could have filmed but nothing we could have put onstage, unless the audience wanted to watch us do makeup for half an hour."
Eventually, enough appropriate ones were collected that the idea was put forth to mount an anthology. The title "Horrorshow" fit thematically, and it had an underlying meaning that was familiar to fans of the book/movie "A Clockwork Orange," where it was a slang term for the word "good."
Plenty of actors were intrigued with the concept that the roles filled up quickly. Interest was especially competitive for the rights to portray the actual monsters.
In keeping with the cinematic influence, Sorrels gathered the cast to screen classic horror films, zombie movies and newer Japanese horror gems.
"People are more willing to suspend their disbelief for a theatrical performance than they would for a movie," says Sorrels, who cites George Romero's original "The Night of the Living Dead" as his favorite fright flick.
"The advantages of doing it theatrically is people can actually see it in three dimensions and experience the horror - kind of like going to a haunted house. The disadvantages are we have a limited budget, so we can't really rip anybody's heads off. And the space itself doesn't lend itself to multiple locations. Basically, it's a black box."
Zombie party
Although Sorrels says "Horrorshow" would probably earn a PG-13 rating if it were a movie, he does encourage younger audiences to attend the all-ages event.
In fact, members of the production will be at Liberty Hall on Halloween teaching junior high school students how to walk and act like a zombie, including tips on how to apply zombie makeup. They'll also perform several short pieces from "Horrorshow."
Sorrels says, "We really have to evoke something in people when they're sitting in here. When they're in the theater, they should have that ominous sense of dread or foreboding or guilt or revenge. That's why we called it 'Horrorshow.' Although we did consider other suggestions, like 'Romero and Juliet.'"
Copyright 2018 The Lawrence Journal-World. All rights reserved. This material may not be published, broadcast, rewritten or redistributed. We strive to uphold our values for every story published.