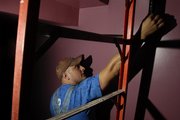 When Jim Connelly remodeled his property at 715 Mass., he found evidence of a fire in the past.
"There were some timbers that were charred up above," said Connelly, who owns Silverworks and More.
But now, Connelly feels more confident his building will never see a major fire again. This fall, he had a sprinkler system installed in his two-story building, with help from the city of Lawrence.
"You would be absolutely stupid to turn something down in which the city is giving you a helping hand," Connelly said. "A small business like ours could not afford to do it."
Connelly is the first business owner to take advantage of a city program that will pay 75 percent of the cost to install a sprinkler system in a downtown Lawrence building. In Connelly's case, he'll receive a $21,916 rebate and pay about $7,000 out of his pocket.
"You still have to come up with thousands of dollars on your part of the bargain, but hopefully other property owners will appreciate the fact that you're protected," Connelly said.
It's definitely appreciated two doors down at Buffalo Bob's Smokehouse, where workers are installing a system.
"It's really nice to know," said assistant manager Patrick Arveson. "If it starts at the business next to us, we'll know that they have sprinklers there so we'll be protected, too."
That was the city's goal in launching the program earlier this year: to get more downtown buildings protected from a fire. More than 150 of the 200 downtown buildings don't have sprinkler systems.
"I think we were all reminded about what kind of devastation can occur in a historic downtown by what happened in Fort Scott a few years back," said City Manager David Corliss. "It was a good reminder that it can be pretty devastating to a downtown, and we want to do it to try to prevent that kind of catastrophic fire loss in our downtown."
In 2005, a fire in Fort Scott quickly spread through downtown, destroying about 10 historic buildings and significantly damaging at least another five.
In Lawrence, the plan is to tackle the issue one building at a time. There's $250,000 available for the program in 2007. Of the 35 applications received, the city selected eight businesses to receive the incentive, including Silverworks and More and Buffalo Bob's Smokehouse. Others include Teller's restaurant, Lawrence Masonic Temple, Goldmakers, The Bayleaf, The Casbah and Hobbs.
The properties were selected based on their locations, historical significance and whether they have residences in them. Corliss expects another $250,000 may be available for other interested property owners in 2008.
"The ultimate goal is to get as many properties as possible protected by fire sprinkler systems so that we'll get to enjoy our downtown as we know it for decades to come," Corliss said.
Copyright 2018 The Lawrence Journal-World. All rights reserved. This material may not be published, broadcast, rewritten or redistributed. We strive to uphold our values for every story published.