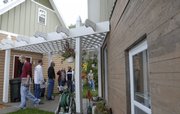 When Matt Smith and Heather Amthauer were house shopping and came across a three-bedroom, split-level home made largely of concrete, they knew they had found the one.
On Saturday, more than 60 people traipsed through their east Lawrence home to check out why it was such a find.
As a way to conserve energy, the house has 4 inches of concrete on both the inside and outside walls. In between is a 4-inch layer of Styrofoam. It's known as a concrete-sandwich wall.
That building technology, along with well-insulated doors and windows and high-efficiency appliances, have the couple saving a fourth to a third on their energy bill. The house also was strategically placed on the lot to maximize sunlight.
"I love it," Smith said. "You get the best of all possible worlds. I feel good about living in it."
The home was one of six on Saturday's Sustainable Homes Tour. The chance to get to peek inside others' homes to see how they save on their energy bill was part of the annual Home Energy Conservation Fair. The fair, at Free State High School, included exhibits, speakers, food and alternative-fuel vehicles.
Those along for the home tour were a mixture of students, architects, builders and homeowners looking for ideas.
"A lot of people are interested in simply green issues and they want to see what is happening on the front in terms of building," said Daniel Poull, who was guiding the tour and is chairman of the Sustainability Advisory Board.
Justin Kreikemeier, an architecture student at Kansas University, said he was on the tour to learn more about green building.
Smith and Amthauer's home is one of two that builder John Craft constructed and architect Joe King designed.
"We feel good about this method and want to do more of them," Craft said.
Although the house costs between 10 to 20 percent more than what a comparable wood-frame home would, Craft said the price difference is quickly made up through savings on energy bills and maintenance.
Other homes on the tour included a Habitat for Humanity house and a straw- bale art studio.
Copyright 2017 The Lawrence Journal-World. All rights reserved. This material may not be published, broadcast, rewritten or redistributed. We strive to uphold our values for every story published.