Just a step away from boarding a bus to tour Lawrence's most energy-efficient homes, Lecompton resident Martin Drey had hopes.
"I'm just trying to get some ideas," Drey said.
The six Lawrence homes heat water with solar panels, keep cold air out with super-efficient insulation, feature well-sealed windows and doors - plenty of energy-saving ideas for people like Drey.
The homes on the tour showed the practical application of the dozens of home and vehicle energy-savers at the Home Energy Conservation Fair, which was Sunday at the Douglas County 4-H Fairgrounds.
At Sunday's fair, contractors and builders swapped home energy ideas with more than 500 Lawrence-area folks looking for ways to save energy and money.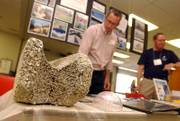 And not all of the options were as complex and expensive as some of the solar systems in the toured homes.
Michelle Crank, fair organizer and specialists with the city's Waste Reduction and Recycling Division, said although some of the larger water heating and insulation systems were intended for new homes, much of what was on display at the fair could make older homes more efficient.
"A lot of these people have ideas that could be easily added on," Crank said.
And although some systems were expensive - the $25,000 solar system in the home of Aron Cromwell, for example - many items were affordable and easy to install.
For most of the afternoon, Gary Anderson stood behind a hot water heater and talked to passers-by.
But Anderson wasn't covered by a bulky, 30-gallon drum. He stood behind a wall meter that looked like a big thermostat or a home security system.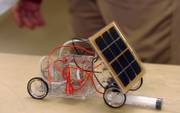 The wall-mounted, on-demand water heater senses when someone twists the hot water knob in a home, said Anderson, a representative for Krystal Planet, a Kansas City-area alternative home energy company.
"It just heats it instantly," he said.
And it doesn't break the bank, either. The $300 unit can save $25 to $30 a month in energy costs, according to company literature.
There were plenty of other ideas to be found. The folks from Cottin's Hardware sold insulation and door sweeps. Lawrence city utilities handed out charts on how to save water.
"My hope is that people have their horizons broadened," Crank said. "You can save money. It's not rocket science."
Copyright 2018 The Lawrence Journal-World. All rights reserved. This material may not be published, broadcast, rewritten or redistributed. We strive to uphold our values for every story published.