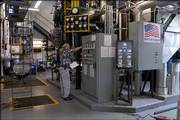 Think it hurts every time you open your gas or electric bill?
Jim Long feels your pain, several thousand times over.
Long, Kansas University's vice provost for facilities and maintenance, deals with $5.2 million in electric bills and $3.4 million in gas bills every year.
That's why conservation measures instituted by KU in recent years - even the little things - make a difference.
"They add up," Long said. "They do."
A change in state policy enacted in 2001 has made KU much more energy-efficient. The Legislature voted to allow Kansas Board of Regents universities and other state agencies to sign on to "energy performance contracts," which are long-term contracts that use energy savings to pay for building improvements.
Audit updates
From January 2003 through spring 2004, KU spent $18.2 million to make a variety of campus buildings more energy-efficient. KU contracted with Viron Energy Services in Overland Park, now Chevron Energy Solutions Co., for the work, which is expected to pay for itself over 18 to 19 years.
The improvements, based on an audit Viron completed of campus buildings, included updating the university's boiler, installing energy-efficient lighting, adding insulation to attics and installing solar film to windows.
They also included installing electronic building controls to heating and air-conditioning units. Temperatures are set at 69 during the winter workdays and fall to 55 when buildings aren't occupied. During the summer, temperatures are set at 76 and rise to 85 when the buildings aren't occupied.
"That is helpful, but it's also inconvenient for people," said Steve Schulte, regional account manager at Chevron Energy Solutions. "We must admit it's not a comfortable temperature."
Conservation process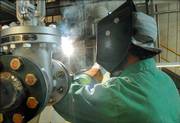 But Long said explaining why KU was making the conservation efforts - including the somewhat uncomfortable temperatures - is part of the conservation process.
"We want to explain to people it's important to do it at home," Long said. "But it's important to do it at work, too."
KU has hired four environmental studies students to be part-time "environmental ambassadors" for the university.
They tour buildings, looking for leaky faucets, inefficient lighting or any other environmental concerns. They also ask students, faculty and staff if they have any ideas for saving energy.
The Provost's Office also solicits energy conservation suggestions several times a year from university constituents.
"This is a universal concern," Long said.
'Good stewards'
So far, the improvements KU has made are paying off. Natural gas use fell 1.5 percent from the period of July 2004-April 2005 to July 2005-April 2006.
During that same time, electricity usage rose 7 percent. But Long said that's not bad, considering KU added around 150,000 square feet of building space.
"Rates aren't getting any cheaper," Schulte said. "With gas and electric rates, we don't have any control over that. We have control over the units (KU consumes)."
Statewide, energy-performance contracts have saved universities $10.1 million over the last three years, said Kip Peterson, spokesman for the Kansas Board of Regents.
At Fort Hays State University, the energy contract has meant installing turbines that harness wind energy in peak-usage situations.
Schulte said he thought it's possible that KU could tap into wind power down the road.
Long said KU would continue to look for the latest technology and energy-saving methods when it comes to energy conservation.
"This topic is a good one for discussion on campus," he said. "It's a significant expense for us. We need to be good stewards of the resources we have."
Copyright 2018 The Lawrence Journal-World. All rights reserved. This material may not be published, broadcast, rewritten or redistributed. We strive to uphold our values for every story published.