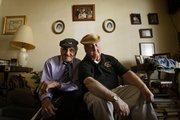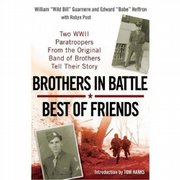 Philadelphia — After parachuting into Europe during World War II, battling along a strip of road called Hell's Highway in the Netherlands and surviving the freezing woods of Bastogne surrounded by German troops, William Guarnere and Edward Heffron do not consider themselves heroes.
Guarnere and Heffron, both 84, are among the surviving members of the fabled Easy Company memorialized in the HBO miniseries "Band of Brothers." To them, the real heroes are the men whose bodies stayed buried in that foreign soil and the mothers who sent their sons off to war, praying for a safe return.
It is so their sacrifices are not forgotten that Guarnere and Heffron have written "Brothers in Battle: Best of Friends," recently published by the Berkley Publishing Group.
"Sitting there in the plane, you wonder why you're up there," says Heffron. "You could be home, but then when you land there, and you go through these villages and you look at those people's faces ... now you know why we're here."
Heffron sits in Guarnere's Philadelphia house, surrounded by pictures of soldiers the two served with and mementos emblazoned with the Screaming Eagle of the 101st Airborne Division, of which they were part.
The book, with a foreword by actor Tom Hanks, one of the miniseries' producers, tells the story of how the two young men from South Philly became paratroopers, fought in some of World War II's major battles and survived to form a lifelong friendship.
And the book comes at just the right time, says Berkley's Natalee Rosenstein. "It's a period of time when we're all looking for real heroes," she said.
Truth be told
Guarnere was one of the original members of Easy Company who dropped into Normandy ahead of D-Day in 1944, while Heffron, often called "Babe," was one of the replacements who joined the unit later. Guarnere earned the nickname "Wild Bill" because just before D-Day, he discovered that his brother had been killed in Italy and he became obsessed with getting back at the Germans.
Both authors take part in Operation Market Garden, a massive jump into the Netherlands designed to get Allied troops into northern Germany, and the winter Battle of the Bulge in which they were surrounded and outnumbered in a Belgian city called Bastogne but helped repel Hitler's final effort to push into Belgium.
Buried in foxholes as shells exploded above them, the men were dubbed "The Battered Bastards of Bastogne."
It was at the Battle of the Bulge that Guarnere lost his leg saving a friend. Easy Company and Heffron went on to Germany, liberated a concentration camp at Landsberg and captured Hitler's mountain fortress, The Eagle's Nest.
The book began after the two were interviewed for a magazine article in 2001 when the miniseries aired. They hadn't talked to their families much about the war, but as some of the last remaining members of Easy Company - Guarnere estimates about 23 are still alive - they felt an obligation to tell their story.
The book is told through alternating voices, each man describing his childhood, the war and the years that followed.
Guarnere's voice has a raw, unvarnished "tell it like it was," quality while Heffron's is an often-introspective look at the war and life. But neither is sanitized or rosy-eyed. Both speak plainly about killing German troops, the looting that sometimes occurred and the drinking and partying that went on after the war and when they were on leave.
But they said it was important to give as accurate aa picture as they could about what they experienced, saying that they were simply trying to do their job the best they could and protect their friends.
"Once you start lying and trying to change things, it's no good," Guarnere says. "You tell the truth, and that's it."
Post-war reunion
After the war, Heffron met up with Guarnere in South Philly; he found him on the street, playing craps. Since then, they've talked almost every day, see each other almost as often, travel together, finish each other's bad jokes or roll their eyes when they know a story they've heard before is coming.
When Guarnere had a heart attack this summer, Heffron was at his bedside daily, said Robyn Post, who collaborated on the book with the two men. "It's one of the most profound friendships I've ever seen. They would lay down their lives for each other - even today."
Both Heffron and Guarnere have nothing but praise for the 10-part HBO miniseries. Ever since, they have been swamped with requests for photos and speaking engagements. Letters from fans arrive daily, and random strangers want to buy them drinks.
Since the war's end, Guarnere has organized yearly reunions for the men of Easy Company, and Heffron and Guarnere have traveled back to the places where they fought. They've also visited American soldiers in Germany and the United States who have been injured in Iraq or Afghanistan.
During one trip, Heffron recalls how Guarnere talked to a serviceman who had also lost his leg. "This guy had his leg off. Bill said to him ..., 'Next time I see you, I want to see you dancing."'
Copyright 2018 The Associated Press. All rights reserved. This material may not be published, broadcast, rewritten or redistributed. We strive to uphold our values for every story published.