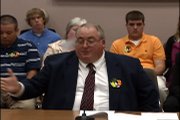 Topeka — Denise and Dennis Bixby say something is wrong.
The Tonganoxie parents of Amanda Bixby, who was killed in a Valentine's Day traffic wreck, say the legal system that allows the man who caused the accident to be able to get his vehicle out of the impound lot "before our child was out of the mortuary" needs to be fixed.
It's the same system that allows that man - Ricardo Flores - to pay $250 in fines and court costs to settle the matter, they said.
But changing this system isn't easy, say prosecutors and the police.
During a hearing last week, law enforcement officials, who usually urge legislators to get tough on crime, were cautioning state House and Senate members to be careful when trying to adjust the state's vehicular homicide law.
In the death of Amanda Bixby, 19, officers initially cited Flores, of Lansing, for vehicular homicide, failure to yield and driving without a license. Flores ran a stop sign and hit Bixby's car and another vehicle on U.S. Highway 24-40 just west of Basehor.
Later, prosecutors refused to pursue the vehicular homicide charge, saying the case didn't fit the definition of the law. Flores then pleaded no contest to failure to yield at a stop sign, speeding and driving without a valid license and was ordered to pay $250 in fines and court costs and spend six months on probation.
The vehicular homicide statute was meant to address fatal accidents that are due to something more than negligence but less than gross or wanton negligence, which are prosecuted under other statutes, such as manslaughter or second-degree murder, authorities said. Conviction of vehicular homicide carries a maximum penalty of one year in jail and a $2,500 fine.
But what exactly vehicular homicide encompasses is a gray area, according to prosecutors.
"The vehicular homicide statute can hardly be considered clear and gives very little direction to the prosecutor," said Finney County Attorney John Wheeler, who spoke on behalf of the Kansas County and District Attorneys Association.
The statute has been amended several times since first appearing in Kansas law in 1969.
Under state law, vehicular homicide is the unintentional killing of a person in the operation of a motor vehicle in a way that "constitutes a material deviation from the standard of care which a reasonable person would observe under the same circumstances."
The Kansas Supreme Court has issued rulings on it in several cases.
In a 2002 case, the court essentially said vehicular homicide cases, if challenged, would have to be settled on a case-by-case basis. "We are unable to set forth a bright line rule as to what conduct amounts to a material deviation as set forth (in the statute)," the court said.
Wheeler said simply: "Accidents happen and not all are criminal. Should we prosecute our wives and daughters for quickly checking their lipstick in the mirror while driving down the road? Should we prosecute the man who grabs an Egg McMuffin on his way to work?"
The Bixbys said the fact that Flores was driving without a license could rise to the level of negligence needed to trigger a vehicular homicide charge.
But Wheeler said "one must ask whether the absence of that license is the proximate cause of death in any accident."
Ed Klumpp, a former Topeka police chief and lobbyist for the Kansas Association of Police Chiefs, said mandatory drug testing of those involved in serious accidents - another proposal by the Bixbys - would have constitutional problems.
"From a practical and from a legal point of view, we are not convinced this would be a good thing," he said.
Today, an officer cannot administer a drug test unless he or she has probable cause to believe that the driver was operating a vehicle while under the influence of drugs.
Regardless of the questions, the Bixbys say they are going to continue to try to change the vehicular homicide law so that it can be used against defendants in accidents such as the one that killed Amanda.
"We have put patches on the vehicular homicide law," Dennis Bixby said. "Kansas and Kansans are better than this."
Copyright 2018 The Lawrence Journal-World. All rights reserved. This material may not be published, broadcast, rewritten or redistributed. We strive to uphold our values for every story published.