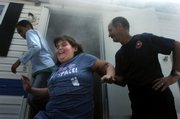 The messages are clear.
"The first thing we're trying to do is teach children how to prevent fires and not to play with fire," firefighter Aaron Flory said. "Number two, we want to teach them what to do in the event of an actual fire."
This month - in observance of Fire Safety Month - members of Lawrence-Douglas County Fire & Medical are visiting local schools. And they're teaching children about what to do in case fire breaks out.
At Pinckney School on Thursday, students learned how to safely escape a burning home and call 911. The students also learned the importance of agreeing with their family members on a specific place to meet, in case of an emergency in their homes.
They headed outside to put those lessons to the test in a "Safety House," a trailer that fills with artificial smoke.
"If there's a fire, you need to go feel the door first, and if it's hot you need to go to the window and climb out it," said Anna Clayton, a fifth-grader at Pinckney School.
The trailer was filled with smoke so thick that students couldn't see anything in front of them.
"There was smoke everywhere, and we couldn't see, and we were just practicing how to get through a real fire," fifth-grader Christian Espinosa said.
And although fifth-grader Chloe Riedemann thought the house was "very claustrophobic and kind of scary," firefighters think it's important to teach children how to react in an emergency.
"I think it's very successful," Flory said. "I think it's a wonderful thing for the community and a wonderful thing for all the children to learn, to know what to do in the event of a fire."
Copyright 2018 The Lawrence Journal-World. All rights reserved. This material may not be published, broadcast, rewritten or redistributed. We strive to uphold our values for every story published.