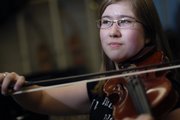 About the program
The ArtStar program recognizes seniors in Lawrence high schools who demonstrate outstanding achievement in the fine arts. Honorees also must excel academically.
Nine monthly winners (September-May) will be selected via nomination by fine arts teachers and featured in the Journal-World and on 6News. An overall winner will be chosen from among those and designated ArtStar of the Year. The annual award will come with a scholarship.
In addition, nominations will be taken for promising students outside the senior class for up to two honorable mention spots each month (see page 2C).
For more information, contact Mindie Paget, Journal-World arts editor, at mpaget@ljworld.com or 832-7187.
If Stephanie Drahozal had her way,
her future office would be a Broadway stage.
She'd spent a typical workday in costumes and makeup, belting out show tunes as the leading lady in "Les Miserables" or "Wicked."
She knows it's an ambitious dream, and right now she's just focused on applying to colleges and forging through her senior year at Lawrence High School.
But she's getting some on-the-job training nonetheless.
Drahozal sings in her school's two select choirs - A Cappella and Chorale - and is a violin section leader in the Symphonic and Chamber orchestras.
Last year, she landed a prominent role in the school's biannual musical, "Hello, Dolly!"
"Stephanie's portrayal of Irene Molloy, the lonely widow who owns a hat shop, was tender and elegant," says Cathy Crispino, choral music teacher at LHS. "Irene's solo, 'Ribbons Down My Back,' was one of the highlights of the show."
Drahozal's performance in the classroom has proven equally showstopping. The 17-year-old boasts a 4.0 GPA and is a National Merit semifinalist who scored a perfect 36 on her ACT.
So how does she manage to keep her busy life in such perfect harmony?
"I work really hard, and I have to really manage my time to be in all of these arts and to get schoolwork done," she says. "It's a lot of work, but I think it pays off."
Indeed, Drahozal was selected to sing in the Kansas Music Educators Association's Statewide Festival Choir last year, and she is preparing to audition again this fall. She has twice earned spots in the Kansas Choral Directors Association's State High School Women's Honor Choir, which takes place each July in Topeka.
Her achievements makes Drahozal a natural choice for The World Company's first-ever ArtStar, a program that honors outstanding accomplishment in the fine arts among Lawrence seniors. She snags the title for September.
Crispino, who nominated Drahozal for the inaugural award, says the senior juggles a lot of balls simultaneously without neglecting one area in favor of another.
"Stephanie makes it all seem so easy because she really thinks it through," Crispino says. "She is careful with budgeting her time, and when she is with you in rehearsal, she is present every second of the rehearsal.
"I think that focus and self-discipline and commitment just really shows - no matter whether she's in orchestra, she's singing in choir, she's onstage taking stage direction - it's just really an excellent level of achievement that we have with Stephanie."
Drahozal, an alto who has lived in Lawrence most of her life, says she's been playing violin since sixth grade and singing for as long as she can remember, although she got serious about choir in junior high.
She also has participated in Summer Youth Theatre productions, such as "My Fair Lady" at the Lawrence Arts Center, and the Broadway at Bethel Music Theatre Camp at Bethel College in North Newton, where she played Daisy in last summer's "Li'l Abner."
Introverted by nature, Drahozal encourages any student with an interest in the arts to get involved.
"I used to be pretty shy, and I think especially being onstage has really helped me get myself out there and become more confident," she says. "I've made so many good friendships in the arts."
Plus, she gets a rush from being involved in the invention of a piece of music or theater.
"You put all these pieces together," she says. "I just love that you're creating a story or something that people enjoy listening to or singing."
And who knows? Maybe one day Drahozal will be putting those pieces together on the Great White Way.
"I think Stephanie has a true passion for making music and acting," Crispino says. "Anything is possible."
ArtStar honorable mentions: Andrew Schoneweis, Olivia Ewert
In addition to a monthly winner from the senior class, the ArtStar program also will name two honorable mentions nominated from the student body at large. The September winners:
Andrew Schoneweis, a junior at Free State High School, started standing out last year during a beginning film media class, where he exceeded curriculum requirements and frequently employed techniques befitting a college-level student.
As a sophomore, he earned a spot on the Firebird Productions team, which was unprecedented, says Megan Spencer, the school's film media teacher.
"He not only carried his own weight but assisted with the workload of others in the program as well," she says. "This year, we have been able to watch him blossom, and now he's teaching fellow students programs that I haven't even mastered yet."
Spencer says filmmaking is Schoneweis' passion, and he spends his free time watching tutorials at home. He single-handedly created a Web site to showcase the Free State film department, www.firebirdproductions.org.
"I know he is currently intending to become a professional filmmaker; I can't see him doing anything else," Spencer says. "It's where he belongs."
Olivia Ewert, a senior at Lawrence High School, has a knack for capturing in drawings and paintings exactly what she sees before her eyes.
"Her observational drawing, her drawing from life, her self-portraits are really beautiful," says Wendy Vertacnik, the LHS painting and drawing teacher who nominated her. "She really focuses and is able to render the form."
For her humanities class, Vertacnik says, Ewert created a stunning copy of Leonardo da Vinci's "Leda and the Swan" painting.
Ewert earned a scholarship to the Milwaukee Institute of Art and Design for a 2007 summer program and has had her work displayed at the Lawrence Arts Center the last two years.
She also volunteered several days at the beginning of the school year to help Vertacnik unpack and log art supplies.
"In the classroom, she hands things in and is helpful to other students," Vertacnik says. "I can always count on her to help somebody else."
Ewert hopes to attend an art school after graduation and is considering a career in illustration.
Copyright 2018 The Lawrence Journal-World. All rights reserved. This material may not be published, broadcast, rewritten or redistributed. We strive to uphold our values for every story published.