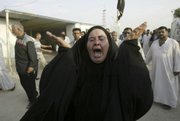 U.S. deaths
As of Friday, at least 3,813 members of the U.S. military have died since the beginning of the Iraq war in March 2003, according to an Associated Press count.
Baghdad — U.S. airstrikes killed at least 25 people Friday after troops met a fierce barrage while hunting suspected arms smuggling links between Iran and Shiite militiamen. The military described the dead as fighters, but village leaders said the victims included children and men protecting their homes.
In a separate incident, the U.S. military said it was investigating the deaths of three civilians shot by American sentries near an Iraqi-manned checkpoint. Iraqi officials said the victims were U.S.-allied guards and were mistakenly targeted.
While details could not be independently confirmed, both reports reflected rising concerns about possible friendly-fire killings as more viligante-style groups join the fight against extremists and fill the vacuum left by Iraq's collapsing national police force.
Such claims could hinder crucial U.S. efforts to draw Sunni and Shiite leaders into alliances against insurgent factions such as al-Qaida in Iraq. In a series of raids around Iraq, U.S. troops killed 12 suspected insurgents linked to al-Qaida, the military said.
Meanwhile, four American soldiers were reported killed - three Friday in roadside bombings in Baghdad and near Beiji to the north, and one Thursday in a small-arms attack in the capital.
The two versions over the airstrike deaths emerged following a U.S. mission in the violence-wracked province of Diyala.
U.S. forces launched a mission seeking the commander of a Shiite militia group linked to members of the Quds Force, an elite branch of the Iranian Revolutionary Guards. Intelligence indicated he was helping smuggle weapons from Iran to Baghdad, the military said.
Ground forces called for air support as they faced an onslaught by gunmen armed with assault rifles and rocket-propelled grenades in Khalis, a Shiite enclave surrounded by Sunni areas, the military said. At least one man was carrying what appeared to be an anti-aircraft weapon, it added.
An American attack helicopter and a warplane destroyed two buildings, said Maj. Winfield Danielson, a military spokesman in Baghdad. The military said 25 militiamen were killed. Danielson said no civilian deaths had been confirmed.
But a different account was offered by local leaders and hospital officials.
They said U.S. aircraft bombed the neighborhood repeatedly, killing at least seven children and local men who organized watches to guard against extremist attacks.
"We were on a night watch in the village because we were afraid of possible al-Qaida attacks. There were no militias, we were trying to protect our families," said 28-year-old Muntasir Abbas, who was wounded in his left leg.
Iraqis routinely assert that civilians are killed in raids by U.S. forces targeting militants, particularly Shiite militia fighters who usually live among the population and serve as protectors for the local community. But Friday's claim was among the largest in terms of numbers.
Copyright 2018 The Associated Press. All rights reserved. This material may not be published, broadcast, rewritten or redistributed. We strive to uphold our values for every story published.