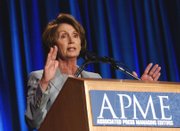 Washington — The House will vote by year's end on legislation that would shield reporters from being forced to reveal their sources in some cases in federal court, Speaker Nancy Pelosi said Thursday.
A similar bill is headed to the full Senate after winning approval from a committee.
"This is fundamental to our democracy and fundamental to the security of our country," Pelosi, D-Calif., told The Associated Press Managing Editors. "We will bring something to the floor this year, before the end of this session."
Despite Pelosi's announcement and the 15-2 vote in the Senate Judiciary Committee, the measure faces an uncertain future, especially in the Senate.
The White House and several Republican senators oppose the bill because, they say, such a policy would hobble law enforcement and efforts by intelligence officials to trace the source of leaks that could harm national security. An objection by a single senator can stall a bill in the Senate.
Proponents of a federal shield law got momentum from special prosecutor Patrick Fitzgerald's decision to subpoena reporters to testify against I. Lewis "Scooter" Libby, once a White House aide, in a case that grew out of Fitzgerald's leak investigation. Libby was convicted of obstruction, perjury and lying to the FBI; his sentence was commuted by President Bush.
The bill includes exemptions for cases in which investigators are tracking acts of terrorism in the U.S. and other countries. An amendment by Sen. Sam Brownback, R-Kan., would keep accused spies, agents of foreign countries and terrorists from claiming the same protections extended to journalists.
Copyright 2018 The Associated Press. All rights reserved. This material may not be published, broadcast, rewritten or redistributed. We strive to uphold our values for every story published.