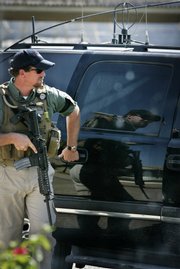 Baghdad — The official Iraqi investigation into the Blackwater shooting last month recommends that the security guards face trial in Iraqi courts and that the company compensate the victims, an Iraqi government minister told The Associated Press on Thursday.
The three-member panel, led by Defense Minister Abdul-Qader al-Obeidi, determined that Blackwater guards sprayed western Baghdad's Nisoor Square with gunfire Sept. 16 without provocation, Minister of State for National Security Sherwan al-Waili told the AP.
The panel also found that 13 Iraqis were killed, not 11 as earlier disclosed, according to al-Waili.
A parallel but unofficial investigation by seven members of the Interior Ministry found that 17 Iraqis were killed and 24 wounded, a member of the Interior Ministry panel said on condition that he not be identified because the findings were not public. He said its recommendations were nearly identical to those issued by the al-Obeidi investigative team.
Both reports were to go to the larger joint U.S.-Iraqi panel studying the shooting. The Sept. 16 incident was one of at least six involving deaths allegedly caused by Blackwater that authorities here have brought to the attention of the Americans.
The Federal Bureau of Investigation has also dispatched a team to Baghdad, and retired veteran diplomat Stapleton Roy is leading a diplomatic review, along with a former State Department and intelligence official, Eric Boswell. The panel, led by Patrick Kennedy, one of the most senior management experts in the U.S. foreign service, was to present an interim report early this month.
Security officials in Baghdad said the State Department report was expected to include information that two Blackwater guards involved in the incident suffered gunshot wounds. The officials would not be further identified because the report had not yet been made public.
Blackwater has said its guards used their weapons only after they came under fire.
But the official Iraqi investigation found that the Blackwater guards had not been fired on when they unleashed the fusillade. It said no shots were fired at Blackwater personnel throughout.
The report said that the Blackwater guards had violated accepted rules of engagement, should face trial in the Iraqi justice system and that the company should compensate the victims' families.
Blackwater is paid millions to protect State Department employees in Baghdad's dangerous environment and is widely known among Iraqis as a group to stay away from as convoys roar through the city, heavy guns at the ready on speeding armored vehicles.
Copyright 2018 The Associated Press. All rights reserved. This material may not be published, broadcast, rewritten or redistributed. We strive to uphold our values for every story published.