Photo Gallery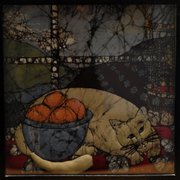 Classroom Collection
Using the collection
The Spencer Museum of Art's "Classroom Collection" is available for area teachers who want to incorporate original works of art into classroom studies. To make arrangements, contact the education department intern at 864-1037 or educate@ku.edu.
¢ The collection is on display through Oct. 31 at CornerBank, 4621 W. Sixth St. An opening reception for the show will be from 5 p.m. to 7 p.m. Friday.
One of the questions children ask most often when visiting the Spencer Museum of Art is whether the pieces on the walls and pedestals are real.
In the Medieval Gallery, for instance, they might wonder aloud whether a panel of stained glass really came from an old cathedral, says Kristina Mitchell-Walker, education director at the museum.
The answer is yes, of course, and the museum is hoping to drive that point home by drawing attention to a little-used collection that loans original artworks to area classrooms for up-close inspection.
"It really is a beautiful, quality collection," Mitchell-Walker says, "and it's a shame that it's just sitting in the crates at the museum and not being used."
That's not the case at the moment. The "Classroom Collection" has been dusted off for an exhibition at CornerBank, 4621 W. Sixth St., that will be on display through Oct. 31, with a public reception from 5 p.m. to 7 p.m. Friday.
The collection originated in 1982 with a gift from the Lawrence Art Guild of 14 original works by local artists. Over the past 25 years, it has grown to 29 pieces representing many media, including painting, drawing, printmaking, jewelry, photography and ceramic, metal and paper sculpture.
The list of contributors reads like a "Who's Who" of Lawrence artists: Elizabeth "Grandma" Layton, Roger Shimomura, Terry Evans, Richard Dishinger, Joseph Judd Pennell, Jan Gaumnitz, Vernon Brejcha.
Each work comes in its own special crate, accompanied by a notebook that includes an artist statement, news clippings, images of additional pieces, Web resources and biographical information about the specific artist.
Sandy Groene, who teaches art at Schwegler School, has utilized several works from the collection in her classes, especially to teach the elements of art, such as line, form, shape and texture. She once incorporated Shimomura's "Oriental Masterprint 13" into a lesson about using facial expression to show mood or meaning.
"I like bringing originals into the classroom so the students can see how the artist manipulates the elements and the medium," she says. "Students enjoy being able to see the textures of the paint and the real size of the work of art.
"I feel lucky to have the originals from the Spencer available to use in our classes."
Although there's no online database through which teachers can view the collection, they can stop by the museum to see what's available or simply call the education department for recommendations.
Part of the reason for the CornerBank exhibition is to introduce the collection to area teachers who may not be familiar with it at all, and reacquaint those who may just be aware of a few pieces. Museum officials also want to broaden the scope of the loan program.
"Originally it was geared toward art teachers," Mitchell-Walker says. "But we'd really like to open it up to other disciplines, too."
A few sculptures would be especially appropriate in geometry lessons, for instance, and others might enrich discussions of Kansas history or East Asian studies.
Barbara Braa, a trust and investment officer who coordinates art exhibitions at CornerBank, says she has been enjoying the collection, which has been on display since Sept. 14. She expects several of the artists will attend the opening reception, and she hopes teachers will come, too.
Lauren Kernes, education intern at the Spencer, says area students in third and fourth grades already visit the museum. But the "Classroom Collection" plays an important additional role.
"I think the kids have a bit of ownership, and it makes art more accessible," she says. "There tends to be this idea of when you walk into a museum, it's sacred and elite maybe. We try to break that down and have them really connect with the work, but this is another way that they can do that."
Copyright 2018 The Lawrence Journal-World. All rights reserved. This material may not be published, broadcast, rewritten or redistributed. We strive to uphold our values for every story published.