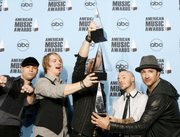 Los Angeles — Chris Daughtry may not have won "American Idol," but his band, Daughtry, earned high enough honors at the American Music Awards on Sunday to share the spotlight with Carrie Underwood and Justin Timberlake.
Daughtry made good on its three nominations, winning favorite pop-rock album for "Daughtry," as well as breakthrough artist and adult contemporary artist.
"Wow. I can't believe we're in the category with Justin Timberlake and Linkin Park. It's pretty awesome," the band's frontman said. "I want to make sure we thank the fans again because you guys made this all possible for us."
Underwood, who did win "Idol," matched her three wins at the Country Music Association Awards this month with three trophies Sunday: favorite female country artist, favorite country album for "Some Hearts," and the T-Mobile text-in award.
Timberlake was a double winner, earning male pop-rock artist honors and the soul/R&B; album award for his "FutureSex/LoveSounds." Timberlake accepted by video from Australia.
Usher presented Beyonce with the international artist award, which has been given to just a handful of artists, including Michael Jackson, Rod Stewart and Aerosmith.
"I'm so blessed to wake up every morning and do what I love. I don't take it for granted," Beyonce said. "I'm so grateful, so honored and so humbled by this award."
In the rap-hip-hop categories, T.I. came up a double winner as male artist and for the album "T.I. vs. T.I.P." Bone Thugs-N-Harmony was favorite group.
Rascal Flatts was named top country duo or group, Tim McGraw was top male country artist, Akon won favorite male soul/rhythm & blues artist and Rihanna was named the favorite female soul/R&B; star.
The night was punctuated with performances, including one between Beyonce and country duo Sugarland, who performed Beyonce's hit "Irreplaceable."
Celine Dion performed her new song, "Taking Chances," and Lenny Kravitz sat at the piano to play his latest, "I'll Be Waiting."
Eighties rock band Duran Duran performed its new song, "Falling Down," as well as the old hit "Hungry Like the Wolf."
Fergie opened the show with a trio of songs from her debut album, then closed it by winning the favorite pop-rock female artist trophy.
Other performers included Mary J. Blige, Maroon 5, Avril Lavigne, Rihanna, Rascal Flatts and teen stars the Jonas Brothers.
Copyright 2018 The Associated Press. All rights reserved. This material may not be published, broadcast, rewritten or redistributed. We strive to uphold our values for every story published.