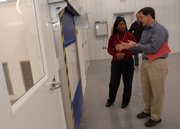 Texas Instruments, Honeywell, International Rectifier and other heavyweights in the manufacturing of semiconductors and other intricate electronics are relying on folks at ICL Performance Products for an essential cleaning and etching component used in their operations.
And now ICL's plant at the edge of North Lawrence can deliver, without any outside assistance.
Company employees, engineers, managers and corporate officers gathered Wednesday at the plant, 440 N. Ninth St., to celebrate a more than $4 million upgrade at the plant: construction of a high-purity facility to produce and package phosphoric acid.
The acid is used in the manufacturing of integrated circuits, computer chips, flat-panel monitors and other electronics necessities. Samsung is about to be added to the company's customer list, now that the ICL plant has joined a select list of producers capable of both making the ultra-pure acid and packaging it for delivery.
The significance of the investment - the largest single capital cost for Israel-based ICL since the company acquired the plant with the purchase of Astaris in 2005 - was not lost on Terry Zerr, ICL's vice president for operations and technology.
"This is really the culmination of about 12 years of work," said Zerr, a Kansas University engineering graduate who worked at the plant from 1986 to 1990. "It allows us to compete not only in the United States, but really worldwide."
And it's no small market. Manufacturers spend about $60 million a year for such ultra-pure phosphoric acid, said Angie Schewe, ICL business director for industrial phosphates.
While Schewe declined to disclose ICL's market share, she did acknowledge that the segment offered opportunities for future growth - something that's good for the long-term future of the plant, which has about 165 employees.
"It's going to provide job security," she said. "We're moving up the value chain with this investment."
Copyright 2018 The Lawrence Journal-World. All rights reserved. This material may not be published, broadcast, rewritten or redistributed. We strive to uphold our values for every story published.