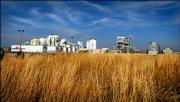 The headquarters for ICL is 6,600 miles from its phosphates chemical plant at the edge of North Lawrence.
But the Israel-based company couldn't be more at home.
"From the very beginning, they've been excited about this acquisition," said Karen Schuyler, plant manager. "This is a core strategic business for ICL. We're an important component of their overall business, and that's always good for a company."
ICL bought the plant at 440 N. Ninth St. from Astaris, which was a joint venture of Solutia Inc. and FMC Corp.
The purchase, announced in September and closed Nov. 5, was part of ICL's $255 million acquisition of Astaris, owner of five plants in the United States and Brazil. ICL is the common name for Israel Chemicals Ltd., a Tel Aviv-based producer of fertilizer and other specialty chemicals.
The Lawrence plant, with 160 employees, makes two lines of products:
¢ Phosphates, which are added to toothpaste, french fries, shampoo and other products.
¢ Phosphoric acid, which puts the zing in sodas and increasingly is used in the etching of semiconductors and flat-panel displays for electronics - among them computer monitors, televisions, wireless phones and PDAs.
ICL has described the acquisition as a "strategic fit" that should allow the company to expand its market reach and generate combined sales of $1 billion. ICL added the Astaris plants to its Performance Products segment, which already had been producing phosphoric acid and phosphate salts for food and technical-grade applications in Europe and the Far East.
The addition of Astaris and its 570 employees "significantly" strengthens the segment's geographic reach into North and South America, ICL said. The company described the acquisition as turning ICL into a "world leader in specialty phosphates."
Among the uses cited by ICL for its chemicals: additives for meats and cheeses, chemicals for water treatment and the paper industry, thermoplastics for the shoe industry, food hygiene products, and active ingredients for antacids and antiperspirants.
In Lawrence, Schuyler said, ICL already is working to boost production and efficiency by sharing expertise with another producer in the ICL Performance Products group: BK Giulini, a phosphates plant in Germany.
One of BK Giulini's managers has made the trip to Lawrence, both to share insights and soak up knowledge.
"There's been a lot of work on really trying to share information and maximize the synergies between the two groups, which is always exciting," Schuyler said.
Astaris wasn't the only plant at the Lawrence site to sell. In August, Chemtrade Logistics Income Fund paid $21.75 million for Peak Chemical LLC, a plant with 23 employees adjacent to the plant now owned by ICL. The plant makes phosphorus pentasulfide, a chemical additive that puts the slick in motor oil.
The Chemtrade plant is on land leased from ICL. The entire complex had been owned by FMC until 2000, when federal regulators forced the company to sell the phosphorus pentasulfide plant to ensure competition in the market.
Copyright 2018 The Lawrence Journal-World. All rights reserved. This material may not be published, broadcast, rewritten or redistributed. We strive to uphold our values for every story published.