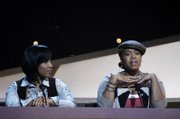 New York — Move over "American Idol." BET has gone talent-hunting for its next superstar in the location often considered to be the birthplace of the most powerful singing in the world - the church.
BET's new television show "Sunday Best" is a gospel talent competition that borrows from "Idol's" format. Production crews went to Chicago, Atlanta and Los Angeles to find people of all ages willing to compete for a recording contract, among other prizes. The good, the bad and the fashion unconscious are weeded out episode by episode by celebrity judges and gospel stars Bebe Winans and Mary Mary (the sister duo of Erica and Tina Campbell). Gospel superstar Kirk Franklin hosts.
But there's a special quality to gospel singing that makes judging "Sunday Best" a unique experience. So, Erica Campbell spoke with The Associated Press to explain what "the anointing" is, what it means to be "Sunday Best," and what it takes for singers to have enough musical charms to save a soul.
Q: It looks like BET's invested a lot in the production of this show. What do you think that says?
A: That there's talent in the gospel community that the world wants to see. It's interesting, it's entertaining - it's also motivating and uplifting. I think when you compile that with a great production you have the possibility of a really, really great show.
How do you critique someone without breaking somebody's spirit?
That's hard, that's really, really hard. Because some people are really sincere but, they're not always good, you know? I just have to be honest. I have to give my opinions ... as humbly as I can. Average and regular is not going to get it. We're trying to reach the masses.
What would you say to a "Sunday Best" gospel competitor about how to bring their best performance forward?
Stand on your own two feet, be very, very confident about what God has given you. We've really come to appreciate our own individuality as being Mary Mary: Being comfortable with who we are, knowing full and well that there is something for me to say my way.
Kirk Franklin said on the show that the artist needs to be able to live the life 24/7 - tell me about that.
And people misinterpret "living the lifestyle" for being perfect. It's never about being perfect. It's about the honesty of heart. Knowing that Jesus is your source in your weakest moments. Being honest enough to say: "Hey guys, I'm weak today." Not fakin' and frontin' like: "I'm a Christian, I have it altogether!" That's never what it should be about. I think that's a misconception, and I think that's what causes people to turn away. ... I never claim perfection. I claim to know a perfect one.
That "life-changing power of God" - how do you get to the point where people feel that when you sing?
Campbell: It's a reflection of your relationship. You know how, like a newlywed, you see this glow on them at all times, and you don't know what it is, they're just happy? I think that is definitely what should be seen in the life of a Christian who's about to sing. You're telling somebody about an incredible, powerful, loving, wonderful God. And even in your lowest times, you always know that he is still that same loving, wonderful, powerful, God and so, that is what should come through. That sincerity, that honesty of heart, whether times are good or bad. That should come through.
Copyright 2018 The Associated Press. All rights reserved. This material may not be published, broadcast, rewritten or redistributed. We strive to uphold our values for every story published.