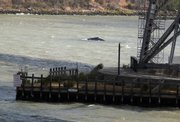 Vallejo, Calif. — Two lost whales closed in on their ocean home Tuesday evening, passing under a busy bridge and entering San Francisco Bay after being lost in inland waterways.
The mother humpback and her calf, who have sojourned for more than two weeks in the Sacramento-San Joaquin River Delta, passed under the Richmond-San Rafael Bridge on Tuesday afternoon, the next-to-last bridge along the pair's route.
"They're heading very much in the right direction," said Rod McInnis, a spokesman for the National Oceanic and Atmospheric Administration.
If the humpbacks can navigate south around a peninsula and an island, few obstacles would remain on their route past Alcatraz to the Golden Gate, the strait that connects San Francisco Bay to the Pacific Ocean.
Still, the fear remained that the whales might head south instead of west, passing under the Bay Bridge and into the long southern half of the bay.
"There are lots of places they could get themselves into trouble before they go out of the Golden Gate," McInnis said.
But, he said, the whales could be back out in the Pacific in a few hours from their current location "if they put their minds to it."
On Tuesday evening the whales were spotted swimming about 10 miles from the Golden Gate.
Observers saw the whales leap above the water Tuesday in a behavior known as breaching, which some biologists view as a form of communication and others as play.
A convoy of boats escorted the pair to protect them from heavy ship traffic in the bay. Bay Area ferry commuters could expect delays this morning depending on the whales' location, Coast Guard officials said.
The whale and her calf had been spotted in the river May 13 and got as far as 90 miles inland to the Port of Sacramento before turning around.
Lesions that had formed on the humpbacks' skin over the weekend appeared to be sloughing off, apparently due to the saltier water the pair have been swimming in since leaving Rio Vista, biologists said. Scientists also reported that a coating of algae that was clinging to the mother farther upriver had fallen away.
Antibiotics had been injected into the whales on Saturday to try to slow the damage from wounds likely caused earlier by a boat's keel.
Copyright 2018 The Associated Press. All rights reserved. This material may not be published, broadcast, rewritten or redistributed. We strive to uphold our values for every story published.