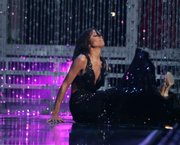 Mexico City — Many here south of the border reveled in her disastrous evening: First Miss USA Rachel Smith slipped and fell on her bottom during the Miss Universe evening gown competition. Then she was booed by hundreds in the Mexican audience.
The treatment of the Tennessee beauty queen was nothing personal. It had more to do with Mexico's sometimes tense relationship with its powerful northern neighbor.
U.S. athletes have sparked a similar response. Mexican crowds booed the U.S. national anthem and some chanted "Osama! Osama!" during soccer games against the U.S. in 2004 and 2005.
Smith was booed repeatedly during her stay in Mexico, including when she carried a guitar and wore an Elvis-style suit during a parade of national costumes in downtown Mexico City.
She kept her poise during an interview Monday night with pageant judges, despite the boos and chants of "Mexico! Mexico!" that drowned out her answer.
"I am very passionate about education and being in South Africa sparked my interest in that," said Smith, a journalism graduate who volunteered for a month at talk show host Oprah Winfrey's Leadership Academy for Girls in South Africa.
Then she paused, smiled and spoke in Spanish. "Buenas noches Mexico. Muchas gracias!" which earned her some applause and some chuckles.
Miss Japan Riyo Mori, who went on to win the crown, opened her interview with "Hola Mexico!" to cheers and claps. Her personal trainer, Ines Ligron, said she had warned Mori about the importance of speaking in Spanish to win over the crowd.
Even an opening "hola" might not have helped Smith, who faced long odds for simply being a gringa.
U.S.-Mexico relations worsened in the past year after the U.S. National Guard was sent to the U.S.-Mexico border to assist the U.S. Border Patrol and help build hundreds of miles of wall to keep out illegal migrants.
Mexicans also are upset over a U.S. Senate proposal for a sweeping immigration reform bill that would limit the consideration of family ties, capping visas for foreign parents of U.S. citizens at 40,000 a year. The plan would change a system that favored family ties for four decades.
Many Mexicans also feel that the United States exerts its influence to tip the balance in its favor, whether in global politics or sports events.
On Tuesday, Mexican media lamented the fact that their contestant, Rosa Maria Ojeda, did not make it to the top five in the pageant while Smith did, despite falling down on the runway. Smith's fifth place finish only added to the theory that the United States always is favored.
Donald Trump, who co-owns the pageant, brushed off the ruckus as Mexicans' frustration with Washington politics.
Smith did not comment publicly after the contest. On Tuesday, she flew back to the United States.
Copyright 2018 The Associated Press. All rights reserved. This material may not be published, broadcast, rewritten or redistributed. We strive to uphold our values for every story published.