High water levels cut down on boating this Memorial Day weekend at area lakes, but that doesn't mean the parks were empty.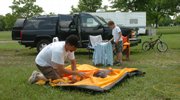 "It's been pretty typical," Jonathan Carlisle, a park ranger for the U.S. Army Corps of Engineers at Clinton Lake, said Monday. "Our campgrounds were all full. Boating traffic was impacted because of the high waters. We hardly have any boat ramps open : but today it's picked up quite a bit on the water."
Total attendance figures for the weekend weren't available Monday, but officials at Clinton Lake expected it to be on par with the roughly 41,000 people who visited the park last year during Memorial Day weekend.
Visitors to Clinton Lake included Andrew Burg, a computer programmer from Olathe who camped with his wife, five of their children and one child's friend. Burg was busy on Monday afternoon grilling chicken and fish outside the family's camper at Clinton State Park.
He said the weather was pleasant overall, despite occasional rain and a choppy ride on a rented pontoon boat.
"One moment it would be hot, the next minute it would be cool," he said. "We don't have any regrets."
Estimated attendance at Perry Lake was lower than at Clinton Lake. Perry Lake Park Manager Bunnie Watkins estimated that this year's crowd was between 20,000 and 25,000 people, compared with 50,000 to 60,000 on a typical Memorial Day weekend.
She said the lake was still 10 feet above its normal level, which meant fewer open boat ramps and more unseen hazards floating in the water. Of the roughly 500 campsites at the lake, 83 were under water because of heavy rains in recent weeks.
"We just don't have the boaters," Watkins said Monday. "At any one point you could go out on the lake and you'd see 15 boats maybe, and that's just unheard of for us."
Copyright 2018 The Lawrence Journal-World. All rights reserved. This material may not be published, broadcast, rewritten or redistributed. We strive to uphold our values for every story published.