Photo Gallery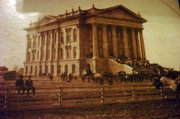 Statehouse Renovations
Topeka — It's a project that's already $52 million beyond initial cost estimates, and it's still four years from scheduled completion.
While such conditions might appear problematic during lean budget times, the top lawmaker in the Kansas House of Representatives says he's plenty comfortable with the ongoing overhaul of the Kansas Statehouse.
Rep. Melvin Neufeld, R-Ingalls, reserves some of his kindest words for the folks who are designing, managing and otherwise shepherding the massive renovations and upgrades - cost: $172 million and counting - designed to breathe new life into an iconic building that traces its roots to 1866.
Treanor Architects, a Lawrence-based firm hired to head the project that now is in its seventh year, is earning every bit of its fees, which generally run about 11 percent of total construction costs, he said.
"They've done an excellent job on finding out what was there, and on the restoration, too," said Neufeld, who is speaker of the House and serves on the Capitol Restoration Commission. "They're restoring the grandeur of the building."
That the project's costs surpassed initial estimates is not all that surprising, he said, considering that original plans didn't include a $30 million parking garage and visitor center or expansion of underground office spaces.
And few could have anticipated a spike in construction costs, fueled by a building boom in China that has taxed markets for concrete and other building supplies.
'Shot in the dark'
But a major reason the project has stretched well beyond even the top range of initial estimates, he said, is because it simply must be done right. After more than 120 years of little to no maintenance being performed on the building, he figures, the place deserves a considerable and historically sensitive overhaul.
"When we made the estimate, it was just kind of a shot in the dark," said Neufeld, who first joined the Legislature in 1985, and has been in the Statehouse since 1991. "It was a little like trying to put a value on what the Capitol is worth. There's nothing to compare it to, because there's no other one like it. :
"But someday, the bill is due. The Capitol project, in retrospect, probably should've started 10 years sooner. It would have saved us $50 million or more."
The project already has posed unique challenges for architects, such as needing to phase construction so that major operations of state government can remain in the building without interruption. Massive utilities have been rerouted. Long-since-removed light fixtures have been rebuilt - this time with state-of-the-art technology - by relying on images captured in historic photographs.
'Long-term solution'
The building's steel windows already have been replaced with historically sensitive ones made with mahogany wood instead of pine, said Mike Treanor, president of Treanor Architects. The higher-quality wood is one of the many project components intended to boost the expected lifespan of upgrades.
"The idea is we're doing something that's going to last - 50 years at least," he said. "It's a long-term solution."
The project has yet to focus on the building's stone exterior, an area that had been considered solid until consultants hired by Treanor conducted field tests and discovered that chunks easily could be dislodged with a simple tap from a rubber-headed hammer.
The weakness serves to emphasize the importance of doing the work right, said Vance Kelley, a Treanor principal who heads up the firm's Topeka office.
"Where they spent the most money previously (on renovation and preservation efforts) probably has done the most damage," said Kelley, an architect who specializes in historic preservation.
Neufeld acknowledges that remaining work on the project - repairing the exterior, preserving and updating the north wing and rotunda, and completing a new visitor center - could cost another $30 million or more.
While some legislators have grumbled about the rising costs, efforts to derail the project thus far have failed. And Neufeld is confident that the work will continue through to the end.
He considers it an accomplishment that the Legislature has remained committed to a project that was certain to draw complaints about costs, and one that remains destined to serve the state well into the building's second century of service.
"We put it on the credit card," Neufeld said. "It's something we have to do. It seems extravagant at first blush, but it's also important for state history and the future of government."
Copyright 2018 The Lawrence Journal-World. All rights reserved. This material may not be published, broadcast, rewritten or redistributed. We strive to uphold our values for every story published.