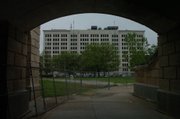 Three questions with ... Gavin Young
Topeka — Kansas leaders find themselves looking down a money pit when it comes to state building repairs.
Lawmakers just approved a five-year plan that will make available approximately $380 million for repairs and maintenance at higher education institutions.
And Capitol restoration costs have skyrocketed from original estimates in the $90 million to $120 million range to approximately $173 million, which doesn't include one wing of the building.
Now the state's two main office buildings - Landon and Docking - are on the critical list and will cost millions of dollars to repair.
"Those two buildings are extremely valuable to the state," said state Sen. Pat Apple, R-Louisburg, who is a member of a legislative committee studying repair costs to primary state office buildings. "They need updating."
The buildings, which dominate Topeka's skyline along with the Capitol, house dozens of agencies.
The terra-cotta and brick facade on the 97-year-old Landon Building is cracked in many places, and tile pieces have fallen to the sidewalk. To protect pedestrians from falling debris, the state has placed chain-link fencing along the building and canopies over entrances.
The building's heating and air-conditioning systems are decades past their typical service lives and the fire protection system needs to be upgraded. The cost to make all the necessary repairs: $83.1 million.
The 51-year-old Docking Building is in similar shape. One option would tear Docking down to its skeleton and rebuild it. That would cost $77 million.
Right now, the Kansas Department of Administration is considering its options, including razing the two buildings and building a new one. That would cost $114 million, according to one estimate, but that doesn't include the cost of demolishing the old buildings and other expenses.
"We're going through the process of educating the legislators as to the condition of the buildings and as to the real issues that exist," said Gavin Young, an administration department spokesman.
Rep. Bob Grant, D-Cherokee, who is also a member of the building committee, said repairing the state office buildings is just as important as repairing university structures, which dominated much of the Legislature's time this year.
But, he said, it may be more difficult to get the Legislature's attention on fixing office buildings.
"We don't have alumni that graduated from them," Grant said.
Copyright 2018 The Lawrence Journal-World. All rights reserved. This material may not be published, broadcast, rewritten or redistributed. We strive to uphold our values for every story published.