Topeka — After the Legislature adjourned Tuesday, House members began cleaning out their chamber. That included taking away chairs and dismantling desks.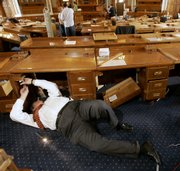 That's not some end-of-session ritual. The Statehouse is in the midst of an 11-year, $172 million-plus restoration, and work will continue this summer and fall on the west wing, where the House meets.
The House will get new desks, new voting boards and new carpeting in time for the session starting Jan. 14. The floor will be reconfigured so that fewer desks are on risers, making the chamber more accessible to people with disabilities.
The renovation has created an opportunity for past and present House members to buy their chairs and desks. Desks go for $110 and chairs sell for $90 to $120, based on their condition.
Abortion discontent
House members who oppose abortion are considering options for more legislative oversight of abortion providers and the enforcement of a Kansas law restricting late-term procedures.
Like anti-abortion groups, they've been frustrated that Dr. George Tiller, of Wichita, among the few U.S. doctors who perform late-term abortions, isn't facing criminal charges. Tiller says he has done nothing illegal.
Outgoing Attorney General Phill Kline, an abortion opponent, filed 30 misdemeanor charges against Tiller in December in Sedgwick County, only to see them dismissed for jurisdictional reasons. Attorney General Paul Morrison, an abortion rights Democrat who defeated Kline, is investigating Tiller but won't announce until June whether he will prosecute the doctor.
Speaker Melvin Neufeld, R-Ingalls, had been under pressure to have the House vote on a resolution ordering Morrison to revive Kline's case alleging the doctor performed illegal late-term abortions. Some anti-abortion activists also wanted Neufeld to appoint a special House committee to investigate.
The speaker did neither before the Legislature adjourned Tuesday. Anti-abortion House members met with him afterward.
"At this point, I think, a whole host of options is on the table," said Rep. Lance Kinzer, R-Olathe, one of those meeting with Neufeld. "I do definitely think that the Legislature should engage in aggressive and active oversight during the off-session."
New tradition
It has become more common for legislators to meet on the day set aside for their adjournment ceremony.
During the 25 years from 1975 through 1999, lawmakers took up significant work on adjournment day - known as "Sine Die," the Latin phrase for "without another day" - only twice, in 1979 and 1991.
However, it's happened in five of the past eight years: 2000, 2002, 2004, 2005 and 2007.
Copyright 2018 The Associated Press. All rights reserved. This material may not be published, broadcast, rewritten or redistributed. We strive to uphold our values for every story published.