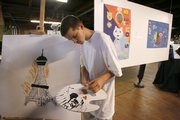 Kansas City, Mo. — Three teenage girls with microphones, dressed alike in green polo-style shirts and cream-colored pants, take turns rapping about their experiences getting into trouble.
"So now I'm locked up. I got to straighten up. 'Cause I know in the streets, I might get messed up," raps the most animated of the girls, as dozens of other teens cheer her on inside a sweltering downtown Kansas City attic transformed into an art house for the day.
The aspiring hip-hop stars have more in common than their rap lyrics. They're all wards of the Kansas City-area family court system who participate in the Sentenced to the Arts Project. The program allows them to take up performance or visual arts as part of their rehabilitation, with hopes of reducing any chance of them returning to the system.
The idea is to give youths with troubled backgrounds an outlet for channeling their energy and emotions. And criminal justice officials say exposing the kids to poetry, musical instruments, painting, filmmaking and other arts has led to improved grades and feelings of self-worth and has cut down on repeat offenders.
"These are kids who really have been outcasts of the system, and we can do wonders with them if we find out what interests them," said Jim Nunnelly, administrator of the Jackson County Prosecutor's Office COMBAT (Community Backed Anti-Tax) unit, which runs the $300,000-a-year arts program and helps pay for it. The state Public Safety Department also provides funds.
Finding their niche
Teens from the program gathered recently in the "art house" attic to display their talents. While the rapping girls performed, a lanky boy in a long white shirt and baggy tan pants crouched in a spot away from the music and carefully sketched the Eiffel Tower.
"It's helping my behavior," the 15-year-old artist, Christopher Van Bibber, said of the alternative sentencing project. "I've learned to control my anger a lot more."
The teen landed in the system six or seven months ago after a police officer pulled him over and found him to be driving a stolen car.
"I was bored; I was out running around," said Christopher, who was sent to a detention center.
He has always liked to draw, mostly cars and buildings. After getting into trouble, an art teacher at the alternative school he attends told him about Sentenced to the Arts.
"I think doing this will keep me out of trouble," said the teen, who remains on probation but is back living with his mother and two of his siblings. "It gives me something creative to do. If they didn't have this program, I'd probably be locked back up."
Court referrals among kids involved in the arts project has dropped 75 percent, and the number of serious crimes committed by them has decreased 50 percent, according to statistics released by project officials.
About 6,500 kids have participated in the program during the eight years it has operated, said Angela Castle, director of Sentenced to the Arts and deputy administrator for COMBAT.
'Good therapy'
The youths are teamed with mentors who visit them at their detention centers, group homes or schools.
Not everyone who ends up in the program has committed a crime. Some are referred after winding up in the family court system for other reasons.
Adriane Brown was 9 when she and five of her siblings entered the Jackson County Family Court system after their father was charged with abusing them.
Brown, now 18, said the program and art in general are "good therapy."
"Especially when you're mad or you're sad, you do your best work," said the teen, whose talents include dancing, writing poetry and painting.
One of her proudest paintings shows a depressing scene with bare trees and dark skies. A star that shines through the darkness represents her.
Adriane, who lives with her adoptive mother now, said expressing herself artistically has helped her control her anger and communicate better with people. It also has helped her become more focused about what she wants to do with her life.
"Everybody has the potential to change," said Adriane, who plans to join the military. "If they can be helped, this is something where they can get an opportunity to better themselves."
Jackson County prosecutor Jim Kanatzar said alternative sentencing programs have proven to work, especially when designed for young people.
"If you study juvenile offenders, you'll find a couple of common themes," Kanatzar said. "They don't have positive goals or positive role models. If you take a kid who feels like there's nothing in the world for them and you play on things they're interested in and team them with a mentor, it's amazing for them. It turns them around."
Copyright 2018 The Associated Press. All rights reserved. This material may not be published, broadcast, rewritten or redistributed. We strive to uphold our values for every story published.