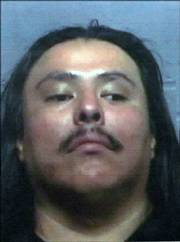 A judge today sentenced a Lawrence man to 48 years in prison for killing his girlfriend by beating her with a table leg.
Judge Jack Murphy sentenced Christopher Belone, 36, to 586 months in prison for the second-degree murder of Linda Begay, who died of an abdominal infection in July 2006 days after Belone struck her in the stomach with a coffee-table leg in a beating at Gaslight Village mobile-home park, 1900 W. 31st St.
Belone choked up in the courtroom as he apologized to members of Begay's family, who traveled from New Mexico to attend the sentencing.
"I'm sorry that I wasn't man enough to have a good family," Belone said. "I did love her... I just ask for forgiveness."
Begay's brother, Leroy, said he hoped the death would be a "milestone" for the community in awareness of domestic violence, which he said affects people of all classes, races, and religions.
"You deserve to be punished," he said to Belone. "You brutally murdered our sister in a cruel way."
Judge Murphy denied defense attorney Greg Robinson's request to break from state sentencing guidelines and give Belone a sentence of roughly 18 years. The guidelines called for a standard 586-month sentence because of the severity level of the crime and Belone's criminal history.
Robinson argued that Begay could have recovered from her injuries if she had received stronger medical treatment at Lawrence Memorial Hospital, where she stayed for several days before being transported to Stormont-Vail Hospital in Topeka.
"It's certainly an injury that could have been corrected if proper medical attention had been provided to her," he said. "This was a death from infection that no one treated."
But assistant district attorney Trent Krug argued the facts of the case didn't justify a lighter sentence.
"Ms. Begay did not perish quickly," Krug said. "She died an excruciating death over the course of three days."
Belone also was convicted of kidnapping, obstruction, and violation of a protective order. Murphy ordered that Belone serve those sentences at the same time as his sentence for murder.
Copyright 2018 The Lawrence Journal-World. All rights reserved. This material may not be published, broadcast, rewritten or redistributed. We strive to uphold our values for every story published.