Photo Gallery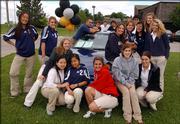 Past Project Graduations
Next year, Katie Swank will compete on the swim team at Miami University of Ohio.
But this weekend - before she starts the next chapter of her life - the Free State High School senior hopes to be swimming in prizes, food and fun at Project Graduation. That's where Swank and some 550 of Lawrence's more than 800 high school seniors are expected to be after the city's final two commencement ceremonies on Sunday.
Among the booty being given away at the shindig are cash, laptop computers, digital cameras, televisions, iPods and a red 1999 Mazda 626 with a sunroof, donated by Laird Noller Automotive.
"I'd just love to come away with something good," Swank says. "I'm sure everyone wants to win that car. You could even sell it and make money."
Parents of Lawrence high school seniors organize Project Graduation each year to provide a safe, alcohol- and drug-free environment for their children to celebrate their accomplishments.
"Nationally, most teenage deaths occur on the night of graduation," says Jamie Hulse, one of four co-chairs for this year's event. "Project Graduation was created ... as an alternative gathering for graduates that would be safe but still fun.
"The goal is to have really good prizes and a multitude of things to do at the event so that they'll stay for the whole thing."
There certainly won't be a shortage of activities to keep partygoers occupied from the time the soiree starts - 10 p.m. at Abe & Jake's Landing, 8 E. Sixth St. - until it wraps up at 3 a.m. Offerings will include casino games, karaoke, dancing, a cash cage, a NASCAR racing game and a mechanical bull.
More than $15,000 in prizes will be given away during the course of the evening; everyone who attends will have a chance to win something. The drawing for the car will take place just before 3 a.m.
"Honestly, going off to college, it would be nice to win anything," says Drew Hulse, a Lawrence High School senior, who says a computer or dorm fridge would be useful. "And, of course, cash. Having spending money is always good."
He's looking forward to seeing people he doesn't encounter every day at school.
"I have a lot of friends at Free State and Bishop Seabury, so it will be fun," says Hulse, son of event co-chair Jamie Hulse. "We'll be able to party all together."
More than 150 parents volunteer to staff the party, which is open to seniors at LHS and Free State, as well as Bishop Seabury, Veritas Christian School and the Lawrence Virtual School.
Julie Swank, Katie Swank's mother and another co-chair for the event, says that in addition to being a good time for graduates, the party provides peace of mind for parents.
"It's really awesome that the community puts this together to support all the kids," she says. "Then you know where your child is; they're in a safe place that's fun. And you make it a big deal so they want to come to it."
Copyright 2018 The Lawrence Journal-World. All rights reserved. This material may not be published, broadcast, rewritten or redistributed. We strive to uphold our values for every story published.